BEIJING - Property prices are unlikely to fall this year and are expected to rise, at least in the short term, despite tightening monetary policies and the expected availability of more affordable housing, a report said on Tuesday.
"In the short term, prices are expected to continue to rise because of high inflation expectations," Ren Rongrong, a property analyst at the China Real Estate Chamber of Commerce, who participated in compiling the report, told a news conference.
Related readings:


 Housing prices see smallest year-on-year increase in Dec


 China's land prices jump on quarter


 Property prices soared 24% in 2010: Research


 Curbs on realty buys to remain in 2011
She added that developers have no incentive to cut prices as they still have sufficient funding and feel no urgent need to cash in.
Other factors, such as GDP, price fluctuation and the construction of government-subsidized affordable housing, will also define price movements this year.
The findings echo a report issued last week by the Chinese Academy of Sciences, which predicts property prices will rise 12.77 percent this year.
The government has prioritized price stability, which means real estate policy will remain tight, and Ren predicted it will become even harsher in the latter half of this year if prices continue to soar.
Policies intended to curb rising property prices this year could mean higher interest rates and lending restrictions in addition to direct controls ranging from cracking down on land speculation to levying a property tax, Ren said.
Last year, the central bank raised banks' reserve ratio - the amount of money they are required to set aside - six times to a record high of 18.5 percent. It also raised benchmark interest rates twice.
The report predicted that apart from tightening policies, increasing land supply and affordable housing would help take some air out of the property market bubble.
Investment in construction of affordable housing is expected to reach 1.3 trillion yuan ($193 billion) this year, with about 360 million square meters to be completed by the end of 2011.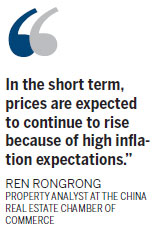 The entry of cheaper housing will have a major impact on the supply mix, the report said. Premier Wen Jiabao said the government is determined to cool the property market and bring prices back to a "reasonable" level by building more affordable housing and implementing harsher monetary measures and stricter controls over land sales to curb speculation.
Although the government took a series of measures to cool the market last year, real estate investment in 2010 still hit a post-1998 record high, the report said.
Developers invested nearly 5 trillion yuan in 2010, a year-on-year increase of 33.2 percent. Land bought by developers in 2010 reached 410 million sq m, about 28 percent more than 2009.
China's land transfer revenue soared 70.4 percent year-on-year to 2.7 trillion yuan in 2010, the Ministry of Land and Resources said earlier.
Property prices in 70 major cities rose 6.4 percent in December from a year earlier, compared to a 7.7-percent increase in November, the National Bureau of Statistics said last week.
The average property price in December in Beijing reached 26,599 yuan per sq m, about 12.6 percent higher than November, according to figures released by the Beijing municipal commission of housing and urban-rural development.
The overheated market shows the government's housing control policy last year failed to meet its goal and harsher control measures are expected in 2011, Yan Jinming, a professor of land management at Renmin University of China, told China Daily on Tuesday.