BEIJING - Pet shops in China and throughout Asia have been busy trying to keep up with demand for bunnies ahead of the start of the Year of the Rabbit, something that has prompted warnings from animal rights campaigners.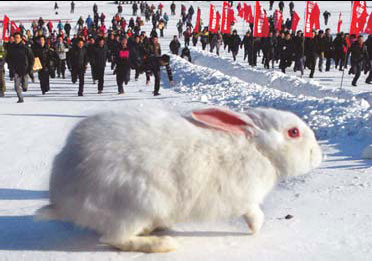 Tourists at the Northeast Asia Ski Center in Shenyang, Liaoning province, take part in a game of catch the rabbit on Thursday. Huang Jinkun. [For China Daily] 
While many Asians see the purchase of a rabbit as something that could bring them luck in the year ahead or that is at least a bit of harmless fun, animal rights groups say the commercialization of the pets sends the wrong message.
Related readings:


 Year of the lucky rabbit


 Bunny business is now booming

 Gearing up for the New Year with a range of rabbit nitbits


 Feng Shui Index predicts bounce in the Year of Rabbit
"I believe raising a rabbit in the Year of the Rabbit will bring me good luck," said Jia Rui, 22, a Beijing resident who is the proud new owner of a 400-yuan ($61) Holland lop.
The floppy eared rabbit is among the cheaper bunnies on sale at the moment in the capital, where prices range from 400 yuan up to 700 yuan, depending on the breed. Holland lops are popular, as are American fuzzy lops and lion heads.
In Changchun, the capital of Jilin province, vendors have hiked the price of pet rabbits ahead of the Chinese Lunar New Year but are still struggling to keep up with demand.
"So many people are buying rabbits that we have had to place orders in advance with our suppliers," one retailer told the local City Evening News.
Pet shop owners in cities including Tianjin, Changsha in Hunan province, Xuzhou in Jiangsu province, Shenzhen in Guangdong province and Shijiazhuang in Hebei province, have all reported that rabbits are now more popular than more traditional pets.
"Compared with cats and dogs, rabbits are a lot easier to take care of," said Jia. "I won't even have to take mine for a walk."
She said it will also be nice to leave for work and know that her pet is not at home shredding the furniture.
That perception, that rabbits are clean and easy to look after, has made them especially popular among young white-collar workers, said Wang Xinrui, the owner of a pet store near Beijing's North Third Ring Road.
"Keeping a rabbit is also cheaper than keeping a dog or a cat," Wang said.
She said they only eat around 25 yuan's worth of food a month which is about 10 percent of the cost of feeding a large dog.
Wang said support services are also sprouting up for rabbit owners. She said busy pet owners can even temporarily leave their rabbits at her shop if they have to go out of town on business.
Despite the trumpeted ease of rabbit ownership, some would-be owners are still hesitating.
"I am worried that I will abandon it if I buy one and cannot stand the smell," said Wei Hao, 18, a Tianjin resident.
Wei said he wished he could rent one for a short time first, to see whether they have any drawbacks.
"Even though they are small, they are still living creatures and it would be better to see first whether I'm cut out to take on such a responsibility," he said.
And that is exactly the sort of attitude being encouraged by organizations such as the Taishan Animal Protection Association of Shandong.
According to Xu Wen, the association's leader, they have recently found eight apparently abandoned pet rabbits. Xu told local newspapers that people frequently turn their pets loose when they realize they cannot deal with the smell.
And People for the Ethical Treatment of Animals (PETA) says owners often simply abandon such pets after the novelty wears off, leaving the animals with a major challenge to survive.
"There's no better time to help rabbits than during the Year of the Rabbit, and you can do so by refusing to support the pet trade that causes so many animals to suffer," said Beijing-based PETA campaigner Maggie Chen.
"Rabbits aren't just cute and fluffy, they are high-maintenance animals that require significant resources, equipment, attention and veterinary care," Chen said.
PETA issued a statement pointing out that rabbits have fragile bones and require lots of exercise and that they will gnaw on anything in sight - making them less-than-ideal house pets.
"Rabbits are complex animals, and potential caretakers, who often purchase them on a whim, rarely understand the specific needs of their new companions," the statement said.
Meanwhile, quarantine inspection officials also warned that rabbits can be difficult pets to keep.
An official surnamed Zhang from the animal health inspection station in Changping district, Beijing, said rabbits are susceptible to gastrointestinal disorders because of their diet of fresh vegetables and can die of severe diarrhea.
Zhang suggested that new rabbit owners protect their pets by ensuring they have the relevant inoculations.
"You should ask vendors to give you an animal quarantine certificate before taking them home," Zhang said.
Under the law, vendors and their pets are required to regularly visit quarantine stations for pet immunizations and disease prevention measures, and to receive the relevant certificates.
"However, many pet dealers, especially street-level peddlers, sell sick animals and you will not even know which diseases they are carrying," Zhang said.
The fate of rabbits also made headlines back in November when an online posting sparked a storm of outrage. The posting featured "crush fetishists" uploading of graphic videos of attractive young Chinese women crushing small rabbits.
AFP contributed to this story.
China Daily