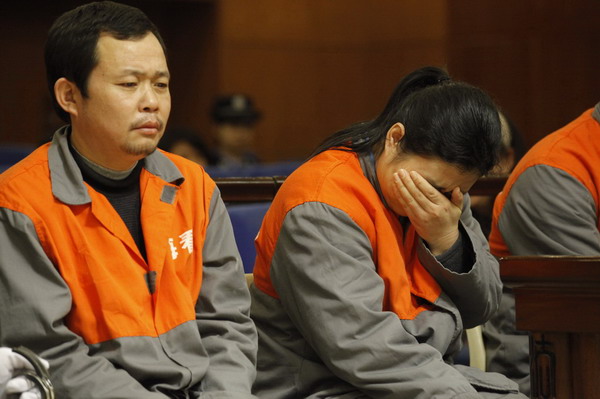 Zhang Xinli (right) cries on Thursday beside Liu Shehui as they stand trial in Haidian district people's court in Beijing for allegedly forcing disabled people to beg. [Photo/for China Daily]
Disabled had to play erhu on city streets for money
BEIJING - Two couples stood trial in the capital city on Thursday for forcing blind people to beg.
The four reportedly became the city's first to be prosecuted for organizing disabled people to beg since the crime was included in the country's Criminal Law in 2006.
The Haidian district people's court heard that the couples, both from Shangcai county in Central China's Henan province, allegedly organized at least four blind men to beg for money in Beijing from early 2009 to April 30, 2010, when they were rescued by local police.
According to the prosecutor, one of the accused, Liu Shehui, came to Beijing with his wife Zhang Xinli in early 2009, joining his older brother Liu Jianshe, who had allegedly forced blind people to beg for years in the city.
In September that year, Liu Shehui's younger brother Liu Huimin and his wife Wang Li came to Beijing, bringing other blind people into the beggars' group.
On April 30, 2010, Liu Zhimin, one of the blind men allegedly forced to solicit money from passers-by while playing the erhu, a traditional musical instrument, was rescued by a police officer while he was begging in front of Peking University Third Hospital.
However, Wang Li nearly stopped the police from taking away the blind man by claiming to be his relative.
They were later taken to a nearby police station for questioning.
The police then suspected Wang of forcing disabled people to beg for money and later detained the other three after Wang confessed, the prosecutor said.
Police launched an investigation into the gang and found the couples had kept at least four blind men in a shabby house in suburban Beijing and beat them if they refused to beg or asked to go home to Henan province.
Wang Li admitted in court that she had abused the blind men but the others denied the accusation.
"I don't want to play the erhu to beg for more than 10 hours every day. But whenever I wanted to go back home, the couples kicked me in the back," testified 40-year-old Sheng Gaizheng, who was allegedly lured to Beijing by the accused's promise of earning big money.
Each of the blind men earned about 80 yuan ($12) every day and had to hand all the money to the accused, the prosecutor said.
"We got their consent before taking them to Beijing. We are hometown fellows and we never hit the blind men because we are also living a hard life," said Liu Shehui.
"I never thought we committed a crime," he said in court.
The couples may face a jail term of up to three years as well as fines, according to Lin Jie, prosecutor with Haidian district people's procuratorate.
The blind men have been sent back to their homes in Henan, the prosecutor said
The court has yet to deliver a verdict.