BEIJING - It was shortly after her daughter was born in 2005 that Deng Zhixin gave birth to an idea to help children who had been abandoned by their parents.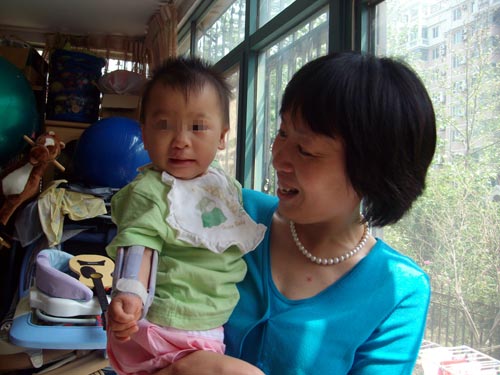 Deng Zhixin spends time with a child at Angel Mom, a temporary foster center she co-founded in 2007 to help abandoned children with congenital disorders. [Provided to China Daily]
While exchanging ideas online with a group of new moms on how to take care of children, Deng came across stories of children born with congenital disorders being left by their parents on the street or in hospitals.
"My original intention was to find medical aid for those kids, and find them the love they deserve as much as other children," said Deng, 41.
With a group of mothers in Beijing in 2007, Deng co-founded Angel Mom, an organization that helps poor orphans who might die without receiving timely medical treatment.
Those children, born with cleft lips, blocked tubes in their bodies or other disorders, come mostly from Henan, Sichuan and Anhui provinces through local welfare houses or offices of civil affairs.
Angel Mom collects funds from wealthy people to provide medical help to the disabled children and finds adoptive parents for them.
Deng said the organization was meant as a temporary foster center rather than a welfare house.
"We concentrated on seeking financial support for their operations and finding them a family capable of and truly willing to adopt them," she said.
Weeks ago, Deng quit her job for the third time in three years. Before she quit, she was the chief financial operator in a Beijing-based foreign invested company with an annual salary of more than 500,000 yuan ($75,000).
"I couldn't handle the heavy work while taking care of the children at the same time," Deng said.
Angel Mom now maintains cooperation with more than 15 hospitals across the country.
As soon as a child arrives, Deng and her partners immediately start seeking financial help from wealthy people through personal relationships or accept assistance from certain charities, such as Smile Angel Foundation, founded in 2006 by Chinese singer Faye Wong and her husband Li Yapeng to help children with cleft lips.
"It usually takes days or even weeks to find someone who would like to donate a sufficient amount if the child's illness doesn't meet the charity funds' requirements," Deng said, adding that six children have passed away, some due to lack of timely medication.
In 2009 Deng heard of Zou Cheng, a 2-month-old infant born with a heart disease and Down syndrome who had been abandoned in a hospital hallway in Shandong province after his birth.
Deng knew the baby could live 20 to 30 years with a successful operation, but it would be extremely difficult to find him an adoptive family.
So she accepted the baby and secured enough financial assistance for his operation.
"I had decided that I would raise Zou as long as he lives. If I died, my colleagues at the center would take over," Deng recalled, choked with sobs.
But Zou didn't survive.
"The baby sitters are more heartbroken as they spend all their time with the babies," she said, referring to a group of baby sitters - mostly younger than 20 and hired by the center - who look after the children on a daily basis.
"It's not necessary to blame the parents in poverty abandoning their children as they had little chance to save their kids," she said.
But Deng said it is unforgivable for parents to abandon their children only out of embarrassment for their congenital disorders.
In 2010, overseas families adopted eight children from the center, and another four found adoptive families in China. Altogether, more than 30 children have recovered with assistance from the center and found new parents over the past three years.
Brought up by her parents who are scientific researchers, Deng said she had never thought of devoting her life to charity before she gave birth to her daughter, Tong Tong.
"There's no specific incident triggering me to do this. So too with the other moms," she said. "The fact of being a mom always reminds me that any child is eager for a mother's love. Sometimes I can hardly fall asleep when I think of those who have been abandoned."
"For me, those children mean responsibility. Sometimes I wish I could let them go but they are already part of my life," Deng continued.
"I chose a special life, but I don't think I'm special."
Cao Yin contributed to this story.