A total of about 6,000 people, ages 8 to 84, have been hurt or become disabled by landmines since 1979 in a Southwest China prefecture that borders Vietnam, yunnan.cn reported Thursday.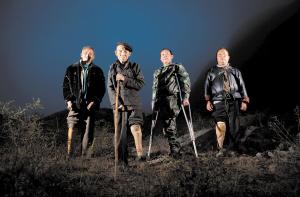 Four of the "87 villagers with only 78 legs" are still living today. [Photo/yunnan.cn]
In Funing county of Wenshan prefecture, Yunnan province, one to two people are still hurt every year by landmines, despite many mine clearance projects and warnings and fences set up around mine fields in recent years.
Tianpeng village, 600 meters from the China-Vietnam border, was once known in China for its "87 villagers with only 78 legs." Only four of them are still living.
The victims can get allowances of 360 yuan ($55) to 5,160 yuan each year, according to the provincial civil affairs bureau. "That is too little for these special groups," said Li Liansu from the civil affairs bureau of Funing county.
"Despite our efforts in helping them get artificial limbs and with their daily life, we still need to do much more," Li said.