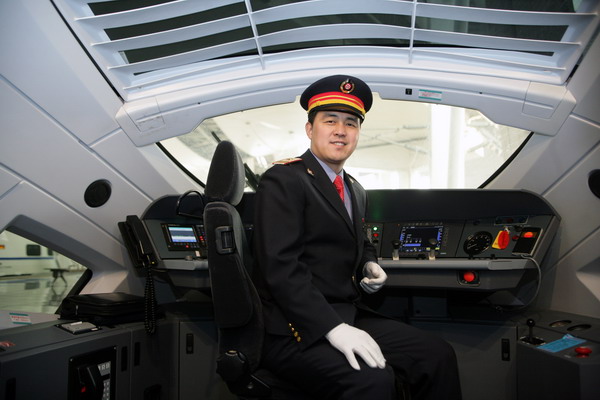 Li Dongxiao, China's first bullet train driver, sits inside the train before starting it on Jan 3. [Photo/China Daily] 
BEIJING - For train drivers, high-speed rail is the Mercedes-Benz of the industry.
Related readings:


Vice Premier stresses safety of high-speed railway 


New intercity railway opens in NE China 


1st high-speed railway opens in Hainan 
"It's the dream of every driver," said Li Dongxiao, the first of China's 10 elite drivers to test and then pilot the Beijing-Tianjin bullet train.
Li, 40, can't remember how many times he's driven between the two cities, but he won't allow room for even the smallest error.
Before leaving the station, he runs through a series of checks, speaking out as he confirms every procedure.
"Switch position - check. ETCS system - check. Intercom - it's getting low on power, we'll have to change it."
Once everything gets the OK, he straightens his cap and uniform, confident that both he and his beloved bullet train are ready to welcome passengers.
Li became a train driver after graduating from college in 1998, and has since steered his engine along more than 1 million kilometers of rail without an accident - or equal to traveling around the equator 27 times.
When China began to develop its fast train system in 2007, the country did not have any special railroads designed for fast trains, nor the technology to manufacture its own bullet trains.
The less smooth rail lines limited the maximum speed of the fast train to 250 km/h, only 70 percent of the current highest speed.
In March 2008, after having driven the bullet train for more than 6,000 km on the old railroads, he accepted a new mission to test and drive a more sophisticated bullet train - the CRH3 - which would run on the country's first railroad built especially for fast trains.
"I was in love with the CRH3 train at the first sight. It was so beautiful, shiny white, a sleek bullet design," Li said.
Unlike a four-wheeled Mercedes-Benz on city streets or a highway, however, this one came with a 670-page instruction manual.
"A driver has to understand the train well, from the details of its construction, dynamic principles, its capacities and forces, otherwise you won't be able to develop good driving techniques," Li said.
But the sophisticated electronic system was far more complicated than Li had expected.
He had been working with Chinese scientists to test the train, driving it back and forth on a 104-km stretch of railroad before they put the train into operation.
"How much time it takes to speed up, how long it needs to slow down from a high speed, it all has to be tested and recorded," Li said.
He spent almost 10 hours a day on the train, hitting speeds of between 160 km/h and 394 km/h, and collecting data every 10 kilometers.
"There are some problems that only drivers can uncover," Li said.
He found six places along the route where the train frequently encountered strong crosswinds.
"When the train is running at a high speed, crosswinds are likely to shake the cars, which is dangerous. So the drivers have to slow the train down along these windy spots," Li said.
At his suggestion, long shields were placed along the six sections of the railway to block the wind.
Li also noted every sudden turn, upward slope and downhill path as he drafted a driving guideline.
"If you accelerate to a high speed going downhill, and let the inertia push the train upward when going uphill, you will save a lot of electricity," Li said.
This is only one of the detailed instructions for the 120-km Beijing-Tianjin high-speed railway, which makes 60 round trips every day.
"At 350 km/h, you pass almost 100 meters in one second, so you can't expect drivers to figure out every emergency ahead of time," Li said.
Even a kite happening to fall on the railroad could damage the train's power supply if it wasn't seen.
"That's why we need the guideline to tell drivers in advance what to expect on which section."
As the number of drivers has expanded from an initial 10 to a current 58, Li has shifted the emphasis of his work to training new drivers.
"The high-speed railway linking Beijing and Shanghai has started testing and the maximum speed is likely to be 380 km/h," Li said, " We will have to train 1,000 bullet train drivers."
Li is still too busy to often see his family members in Tianjin. But he believes it's a temporary problem that he has to overcome.
"I told my wife that high-speed railway is developing quickly in China, and I'll be able to slow down and spend more time with her when the expansion is done," Li said.