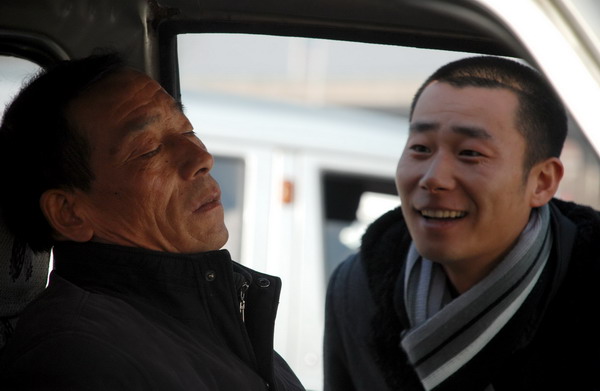 A promotional poster shows Yao Jinfei (right) and his father in their self-made film My Father. Yao, a professional actor, shot this film for his father, who was diagnosed with late-stage lung cancer. [Photo/provided to China Daily]
BEIJING - The phone call from his mother was unexpected; the response was one many a man knows well.
His father was in the late stages of lung cancer, and Yao Jinfei didn't know what to say.
"It's awkward for me to express my love to him," Yao said.
So he fell back onto what the 27-year-old actor did know well - filmmaking.
"Making a movie to keep the memory of my father alive might be the best gift, and it can also show my gratitude for my father and fulfill his dream of acting."
The film is a special present for his 58-year-old father, and is based on stories between the two men with them playing the leading roles.
"I couldn't believe my ears when my mother called and told me about my father's disease," Yao recalled. "I felt so guilty because for years my parents have given all they had to me, but now as a grown-up I've spent so little time with them."
Yao, who has been working as an actor in Beijing for four years, put aside his work and returned to his parents' home in Qingdao, East China's Shandong province.
Memories of his father flooded back: a truck driver and Peking Opera fan, who in his youth had performed with the erhu, a two-stringed fiddle, harmonica and guitar.
"He loved performing so much, and would even test my study results at the performing arts college when I returned home," Yao recalls.
During Yao's primary and middle school days, his father would warm his trousers for him over the stove before he woke up every winter morning.
"I remember we drank a lot together one night and both fell asleep. But when I woke up in the morning, I found my socks and clothes were right beside my bed, tidy and clean - my father had washed and dried them overnight," Yao recalled, tears welling up.
"Now, even though he's ill in hospital, it seems more like he's the one looking after me," Yao said. "He gets the water and food ready for me and asks me to have more. Sometimes when he wakes, he gets up and asks me to take a rest in his bed."
At the hospital, his father took out a notebook where he'd jotted down details of his son's life, like when Yao left home for the first time, when he'd returned and how long he stayed, and even how much money he asked for during his college days or after graduation.
To have something in common to talk about with his son, Yao's father even noted down information on famous directors, films and other things about the entertainment industry.
"My father also remembers the only time he beat me for being bad when I was a child, which I had almost forgotten. But he said he still feels sorry for that, even today," Yao said.
Yao finished the draft during three sleepless days. As the first-person narrator in the movie, Yao recalls memories about his father from childhood, with brief dialogues and nostalgic moments.
He managed to get support from a local film studio for equipment and expertise. Some of his friends, including a professional cameraman, a gaffer and a group of students from a local film academy also volunteered.
Yao still remembers the first time his father went in front of the camera. It was a cold day, and his father was wearing the oily uniform he preserved for hauling items from the building materials market.
"My father was feeling good and very excited that day," Yao said. "His performance might not be too professional, but he basically gave what I expected - a natural reflection of real life experience."
"Sometimes I worried that the long hours of acting might be too hard on my father, given his bad health and the cold weather, and I would even ask myself 'what am I doing?'" Yao recalled.
Yao's team finished the scenes involving his father's performance in seven days.
While now busy editing these scenes, Yao is also raising money to shoot the other parts of the film. Yao's father even sold his truck to support the film, as it is the best experience he's enjoyed with his son in years.
"It's quite an experience for me and I enjoyed it very much," the father said.
The film, entitled My Father, is still undergoing post-production.