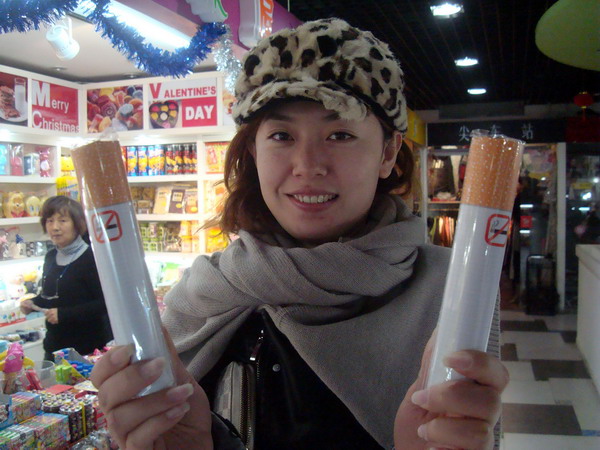 A customer holds two packages of chocolates shaped like huge cigarettes at a candy shop in Suzhou, Jiangsu province, on Saturday. The shop's owner said the boxes make people think about replacing cigarettes with candy. [Photo/for China Daily]
Vice-mayors of 10 cities sign pledges to end tobacco use in public places
HANGZHOU - A foreign-funded tobacco control project was launched in 10 Chinese cities on Tuesday, following public outcries for stronger political will from top leadership to protect people from the deadly smoking epidemic.
Related readings:


Tobacco control necessary 


Smoke alarm raised as tobacco plays leading screen role 


Tobacco industry blocks anti-smoking campaign 


More likely to die from tobacco in China 
It is the second phase of the Tobacco Free Cities project funded by the Bill and Melinda Gates Foundation in China. The first was launched in seven cities, including Ningbo, in East China's Zhejiang province, and Qingdao, in East China's Shandong province, in mid-2009.
The 10 cities' vice-mayors signed official pledges at the launch to strive to create tobacco-free cities for residents in return for shares of the $2.2 million project fund.
The cities included Zhejiang's provincial capital Hangzhou, Liaoning province's Dalian city, Jiangsu province's Suzhou city and capital Nanjing, and the Ningxia Hui autonomous region's capital Yinchuan.
"The two-year project aims to enhance the overall capacity in smoking-tobacco control of the cities and help ease the burden caused by tobacco to public health, the environment and the economy," Emory Global Health Institute director Jeffrey Koplan said.
The institute oversees the project in partnership with the Beijing-based non-governmental organization ThinkTank Research Center for Health Development.
China is home to more than 300 million smokers - about a third of the world's total. About 1.2 million mainland residents die from smoking-related diseases every year, government figures showed. The government's annual spending on tobacco control averages 20 million yuan ($3 million) a year.
The project allows cities to choose their own tobacco-control focuses. Most work is carried out by local health departments and centers for disease control and prevention, ThinkTank director Wang Ke'an said.
In addition to funding, the project provides cities with technical assistance, such as staff trainings, he said.
Cao Chengjian, deputy director of Hangzhou's disease control and prevention center, said local restaurants and hotels will be primary targets.
Since the city banned smoking in public places in March, about 50,000 yuan worth of fines have been issued, he said.
"We're working with local health inspection departments that have law enforcement power to help implement and enforce anti-smoking laws and regulations," he said.
It is common to see people smoking indoors in cities where doing so is banned.
"Only a combination of policies and raising public awareness could help achieve effective tobacco control," Koplan said.
"The key is to change the social norms among the public, which will also help reinforce the change in government policies."
It took about 20 years for such a transformation to take place in the United States, where smokers were tolerated lighting up wherever they wanted, he said.