Policy targets cramped conditions of capsule living. Wang Yan in Beijing reports.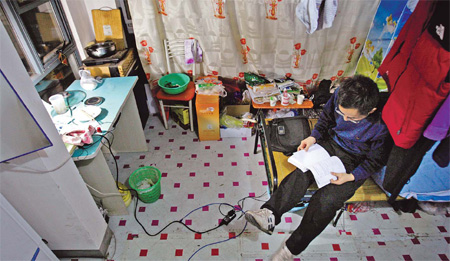 Wang Hongya from Henan province shares an apartment with Wang Tao and 10 other tenants in the Tiantongyuan residential area, which is in northern Beijing. He arrived in the capital a year ago. [Zhang Tao / China Daily]
Wang Tao lives in a 7-square-meter cubicle erected in a cramped three-bedroom apartment in north Beijing. He has 11 roommates.
"All of the tenants are young people. Some are unmarried couples and some, like me, are single," said the 27-year-old, who works in security at a State-owned company in Beijing. (He did not want his real name used for fear of upsetting his employers.)
Capsule apartments have grown extremely popular among the "ant tribe", the Chinese term for low-paid college graduates huddled together in cut-price city housing. Wang, who earns just 1,500 yuan ($220) a month, pays 650 yuan for a space in the capital's massive Tiantongyuan residential complex. For him and thousands of others, it is "the only affordable option".
Yet, come Feb 1, the practice of dividing rooms to house multiple tenants will be banned nationwide.
The regulation, which was unveiled by central authorities last month, has sparked intense debate, with some fearing the move could force low-paid white-collar workers out of cities and lead to a possible labor shortage.
Tenants and landlords are staying relaxed, however. Many of those who talked to China Daily said the ban is unlikely to make an impact on the huge demand. Policy and real estate experts agreed.
"No one would crush into a small room if they earned a decent living," said Wang. "If nobody can provide a legal place (that is affordable), I'll have to keep looking for something like I have right now."
Finding cubicles is not hard in any city. A simple Internet search produces a list of apartments with spaces to rent for less than 1,000 yuan a month.
Wang, who arrived in Beijing in 2006 after graduating Tianjin University of Science and Technology, has lived in three different units, with prices ranging from 600 to 850 yuan. He said that, like most landlords, his is a sub-lessor who runs several converted apartments.
"(The landlord) is making money," he added. "He doesn't care about being caught."
Huang Rixin, one of the pioneers of capsule homes in Beijing, said low-cost housing was vital for graduates and white-collar workers who flock to cities.
"Young people need a place to stay before they can realize their big-city dreams, while cities definitely cannot keep developing without the migrant population," said the 79-year-old engineer, who recently donated his capsule apartments to the capital's Shijingshan district government.