Development zone helps islanders emerge from isolated past. Peng Yining and Hu Meidong report from Xiamen.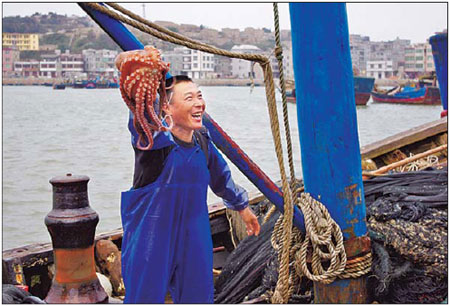 A fisherman displays an octopus as he sells his catch at Dong'ao pier in Pingtan, Fujian province, in this file photo taken in December. [Peng Yining / China Daily]
Zheng Xialao burst into tears when he traveled across the newly built Pingtan Straits Bridge for the first time.
"It's a dream come true," said the 77-year-old as he rode a tour bus over the 3,510-meter crossing.
"Soon, Pingtan county will be prosperous, and not just an isolated island. There will be factories and my grandchildren will be able to find good jobs."
The retired fisherman is not the only one who hopes the completion of Fujian province's first cross-sea bridge is a sign of things to come.
After being selected as a cross-Straits development zone due to its close proximity to Taiwan, Pingtan's 400,000 or so residents have been eagerly awaiting a revival of the island's flagging fortunes. In announcing the move, authorities promised an influx of new investors and employers.
"If the project brings more jobs, my daughter can stop drifting from city to city as a migrant worker," said Lin Yun, 46, who runs a small fish food business. "She can come home."
Previously, villagers had to rely on ferry services to reach the mainland, with a trip to the provincial capital, Fuzhou, usually taking five hours. By using the new Pingtan to Fuqing crossing, the journey can be completed in two.
Excitement in the run-up to the bridge opening on Nov 30 was palpable. Some pensioners visited the construction site as much as once a week to check on the progress, said Zheng, who was given a free tour on one of 11 buses arranged by county officials.
"The bridge is just the first step," said Li Yiren, deputy director of the county's publicity office. "More changes, more jobs and more business opportunities are on the way."
Fishing community
Fishermen unload their hauls of shrimp and fish at Dong'ao dock in Pingtan, a small island county in Fujian province that lies 125 kilometers west of Taiwan's northwestern city of Hsinchu. The island was selected as a cross-Straits cooperation zone in 2009. [Photos by Peng Yining / China Daily]
Pingtan, which lies 125 kilometers west of Taiwan's northwestern city of Hsinchu and was selected as a cross-Straits cooperation zone in July 2009, is stretched over 392 square kilometers. However, the vast majority of residents are concentrated in western settlements, facing the mainland.
Farming here is difficult due to the high salinity of the soil and the lack of fresh water (most fruit and vegetables are shipped in), yet more importantly the lack of convenient transport links has prevented the island from developing any large industries.
More than 40,000 people still make their living fishing the shallow waters off Pingtan's coast.
"Fishing is dangerous, tiring and the pay is extremely low," said Zhou Qiuxing, 46, a fisherman from Dong'ao village. "We even work in deadly storms."
Like many others, Zhou spends months at sea on a 20-meter-long boat. His face is already a deep tan, while his hands are rough with calluses.

"The work is far too dangerous. I will never let my children do it," he said, before explaining that he had invested in two new boats this year to help pay college tuition for his 20-year-old son and 23-year-old daughter. "I'd love to be able to do a different job, but there aren't many choices here," he added.
With prices around 100,000 yuan ($15,000), not all villagers can afford to buy fishing boats, forcing many to turn to Taiwan employers.
The central government unveiled a policy that allowed fishermen from Pingtan and other coastal regions to work on Taiwan fishing vessels in 1988 and, during the 1990s there were roughly 3,000 Pingtan residents working for Taiwan bosses at any one time.
However, although the average salary has steadily risen over the past three decades to 2,600 yuan, the number of Pingtan fishermen with Taiwan firms was just 700 in 2010.
"A mainland fisherman can cost half as much as one from Taiwan but many are now working for more money as migrant workers in big cities instead," said 48-year-old former fisherman Yu Changmao, who added that Taiwan trawlers sail out after Spring Festival and usually do not return until the following year.
According to official data, roughly 50,000 young people have left Pingtan Island in search of better employment opportunities since the 1980s. Most are working in tunnel construction and on ocean liners.