Ex-drug addict gives workers a second chance
SHANGHAI - Wang Yongjin's factory in Shanghai looks no different from any other, except among its employees are seven former drug addicts and one worker who was once sentenced to life imprisonment.
"Everybody has a past and people make mistakes. But I believe if one really hopes to change, given a chance, he can have a rebirth," said Wang, citing his own experience.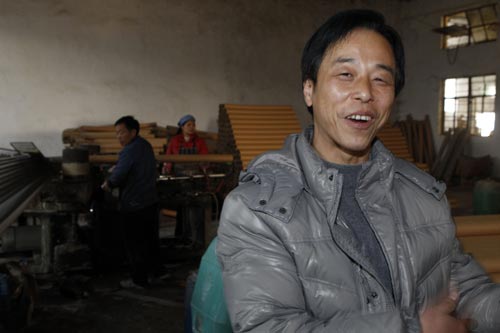 Wang Yongjin, a former drug addict who is now director of a paper factory in Shanghai, employs seven ex-drug addicts and one worker who was once sentenced to life imprisonment. [Yong Kai / for China Daily]
The 44-year-old Shanghai native, who struggled with drug addiction for 15 years, admits he was more surprised than anyone to see himself become a factory director.
"It was the first night I got out of the rehab center three years ago. I was living with my mother, who had raised my 15-year-old son on her meager pension and my father had passed away in 2006 when I was in rehab," said Wang.
"I asked myself, 'is this the way I'm going to spend the rest of my life?'"
Wang decided to start anew. Once a general manager at a State-run enterprise, Wang had years of experience in management.
"I started with a 150-sq-m workshop at home with a reel-fed machine," he said.
The paper workshop has expanded three times in three years and is now a 2,700-sq-m factory.
The factory, Shanghai Yangxian Co Ltd, has 42 workers and produces more than 70 percent of the city's toilet roll cores.
"I'm just glad that the bigger my business is, the more people who will have a chance to start their lives over - and to dispel the impression people have of former drug addicts," said Wang. "They're honest hard-working people who know enough and have paid enough for their past mistakes. They deserve a second chance."
Wang still remembers the day he hired Zhou Ronggang, a 57-year-old Shanghai native with a life sentence on his criminal record.
"He had just gotten out - he was staying in some chess and card room during the day and spending the night in a public bathroom," Wang said.
Zhou is now in charge of the warehouse.
"After spending more than 30 years in jail, everything I have is a gift - a job, friends, a monthly salary of 1,500 yuan ($227) and even the right to smoke," Zhou said.
Wang has also hired seven former drug addicts over the past two years, most who have been abandoned by family and friends.
With a bad past, low education and poor working experience, most former addicts have difficulties securing jobs, said Feng Jianguo, a social worker from the government-funded Council of Shanghai Ziqiang Social Services.
"It's almost impossible for them to return to society if they can't find a proper job," Feng said.
Wang said his happiest moment is finding someone like Tao Linli, a 34-year-old former addict who has put his life back on track.
Tao, after working with Wang for nearly two years, has won back the trust of his once alienated father and aunt. His aunt even promised to lend him 100,000 yuan to start a business.
Wang fully supports Tao, and is even thinking of setting up another company in a section of his workshop for Tao to run.
"But that is under two conditions: He won't break the law and will hire a certain proportion of ex-drug addicts."
Wang built a two-floor dorm next to his factory to create a drug-clean environment. He lives and eats with his workers, and talks to them every day after work.
"I never lecture. I know it doesn't work," Wang said.
"I've been there and I can see into their minds," he continued. "I told them - you have to know, first of all, how to forget about your past identities. You're not a general manager or a millionaire anymore, you're now one of the unprivileged with nothing but an empty backpack.
"If you want to be a qualified husband and son, work harder with me."
China Daily