Qualification leads foreign company to attempt to recruit her as trainer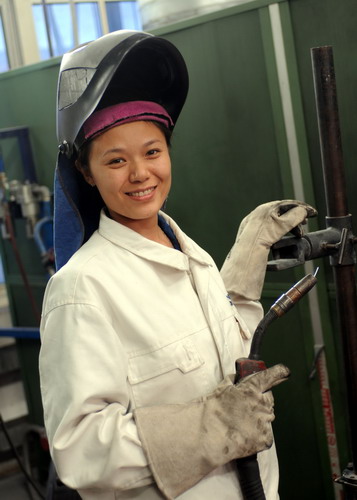 Sun Binbin has trained hundreds of welders to produce China's fast trains. [Photo/for China Daily]
BEIJING - When Sun Binbin was little, her father often told her about her grandfather, who worked as a blacksmith in locomotive manufacturer Tangshan Locomotive and Rolling Stock Works in Tangshan city, Hebei province.
Related readings:


China's high-speed rail network to take shape in 2012 


Work on high-speed rail between China, Myanmar starts in 2 mths 


Race is on for high-speed rail 
Her grandfather cast and hammered the iron steel bust of Chairman Mao affixed to the factory's first locomotive in New China's early days, her father told her.
Inspired by the story, the 32-year-old became the country's first woman "master welder" and works at the same factory as her grandfather.
"It was destiny," Sun said.
Sun earned an international "master welder" certificate in Germany in 2008 and was offered a position as a trainer with a foreign company.
Only two Chinese have earned the Welding Master certificate issued by DVS (or German Welding Society), an international qualification that allows the holder to train others.
"Even the certificate examination committee in Germany said it is rare for a woman to pass the strict test," she told China Daily.
She is the top welding specialist at the factory where her grandfather worked, now called Tangshan Railway Vehicle Co. It is affiliated to the major locomotive manufacturer CNR Corp Ltd.
Sun started her career brazing torches in the plant after graduating from a technical school in 1997.
"I simply thought the job would exempt me from lifting or carrying heavy stuff," she said.
But as a welder, she had to squat for up to four hours a day, fusing the green rollers' iron shells piece by piece.
The intense light made it difficult for her to sleep at first, and the ultraviolet rays burned her like the sun would.
She planned to quit.
But her father said: "If you don't do it, nobody else will, but the job needs to be done."
As China was ambitious to advance its high-speed railway industry, the factory planned to send experienced welders to Germany for training. Sun's fastidiousness and ability to learn quickly earned her a spot in 2006.
"When I first met my foreign teachers, they were astonished to see a woman student," she said.
"Because I was tall and thin, they even joked, 'you should be a model rather than a welder'."
The five-month course in Germany changed Sun's techniques and ways of thinking.
"Germans are renowned for their rigorous minds and stern discipline, which are evident in their daily work," she said.
Sun recalled feeling proud upon completing a project before her teacher.
However, she was disappointed when her teacher discovered hidden defects inside.
"Make it the same outside and inside - that's a lesson I learned from my teacher and one I teach my students," she said.
Although Sun cannot weld China's new high-speed trains by herself, hundreds of her students are putting their hands to creating the fast trains that run on the Beijing-Tianjin and Wuhan-Guangzhou high-speed railways, and will run on the Beijing-Shanghai line.
"It's hard to believe China's welding technology lagged when I started but has caught up to global standards so quickly," she said.
"I feel so proud to contribute to China's railways. My grandpa would feel the same."
Tan Zongyang contributed to this story.