Pristine mountainsides laid bare as traders pay villagers to plunder. Liu Zhihua reports from Henan.
The slopes of the Tongbai Mountains were once covered with beautiful, thick forests of ancient trees. That was before villagers started stealing them.
Related readings:


Guangdong First Peak Virgin Forest scenic spot 


China urges efforts for forest protection 


Mummified forest reveals clues about climate change 
In the 1990s, farmers were simply looking for free lumber and firewood, but today organized gangs are targeting large and rare trees as part of a multimillion-yuan industry.
"The mountainsides are starting to look very bare," said Li Peng of the Huaihe Rangers, an NGO set up to protect the rivers and forests of East China's Huaihe River Basin.
"You'd be lucky to find a living tree up there measuring more than 30 centimeters in diameter now. The thieves have taken almost all of them," he said.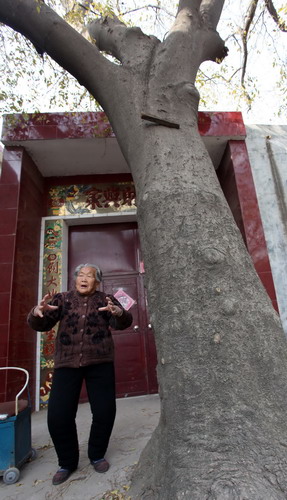 This six-meter-high honeylocust tree has graced Lingbei village in Xuchang county, Henan province, for more than 100 years. Its owner, Shi Shaojun, has rejected numerous off ers to buy it. [Photo/for China Daily] 
As more stolen trees go to nearby nurseries to be sold for huge profits to property developers in northern cities, woodlands across the neighboring Tongbai and Biyang counties are being left in ruins.
Not only are the lives of ancient trees being shortened, thieves are also destroying grasslands and other plant life when they remove them.
"The deforestation has likely contributed to the floods and droughts we've witnessed here in recent years," said Li. "If it continues like this, future generations will not thank us."
Due to the mild climate, the Tongbai Mountains are home to a wide range of species, from the common Chinese honey locust to rare maidenhairs, the removal and sale of which without permission are illegal under State laws and regulations.
However, as some varieties are now hot commodities, tree traders are taking advantage by organizing villagers to sneak past forest rangers and steal them. Unfortunately, this usually involves killing every smaller tree and plant that stand in their way.
"I grew up next to a mountain with a thick forest. It was beautiful," said Tongbai farmer Li Hulin, who did not want to be identified by his real name for fear of reprisals from traders. "Even a stranger to the area would be heartbroken at the sight of it now."
As one of three forest rangers in Taipingqiao village, Li receives 3,000 yuan ($450) a year from the county government to protect 6.5 square kilometers of woodland.
"We patrol the mountains at least once a day separately and, from time to time, we catch the thieves red-handed, but it's useless. The forest continues to vanish," he said, adding that thefts have dramatically increased since 2008.
Fearless traders
Four hours northeast of the Tongbai Mountains is Yanling county, a famed horticultural trading hub where roads are lined with nurseries displaying large trees for sale. Of the hundreds of garden businesses here, Xinke Nursery is arguably the biggest.
When a China Daily reporter visited the store posing as a potential customer in December, manager Yu Fei said his company had 2,400 trees with diameters of more than 30 cm for sale, including seven 1,000-year-old maidenhair trees 70 cm in diameter.
Other rare plants mixed among the standard pines and maples were hackberry, Chinese holly and fringe trees.
"My big trees are from the mountains and most of them are hundreds of years old," boasted Yu, whose father owns the business. "Some are bought from suppliers, others we find ourselves."
When asked if he was concerned by the growing difficulty in finding old trees due to the mountains becoming barren, he said it was a good thing as it means prices will go up.
The State Forestry Administration forbids the removal of trees older than 100 years from forests without the necessary certificates. Those moved legally must be replanted. Loggers are also banned from touching forests preserved for the benefit of the environment, while county authorities must give permission before any tree in a State-owned, collectively owned or private forest is used as lumber or firewood.
Yet, for traders like Yu, money can help overcome any obstacle.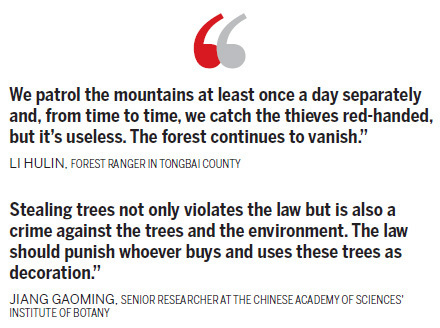 A worker at Xinke surnamed Hou said his boss uses his connections with county officials to get village cadres to form gangs to roam the mountains for large and rare trees.
"It's safe to buy old trees from nurseries," assured Yu. "We can help get the transportation and quarantine certificates from the county forestry bureau, which makes it easier to take the trees to your place."
A dealer called Tao at a nursery five minutes down the road explained quarantine and transportation certificates cost 20 yuan and 40 yuan per ton respectively, and added: "We can persuade county forestry officials to give you a discount."
It is this link with the local authorities that farmers living near the mountains are worried about.