Beijing: Changing Values 
Wu Wencong talks to an 83-year-old pensioner who measures the rate of inflation in braids of garlic and a container of milk.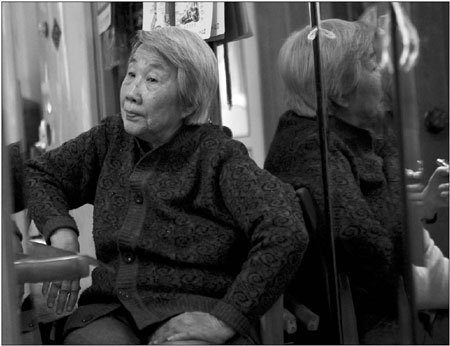 Retiree Yu Ping is rethinking her attitude towards money, and intends to spend more this year instead of saving it in the bank where interest cannot catch up with inflation. [Photo by Zou Hong / China Daily]
The value of the notes in her pocket has changed, and for Yu Ping, her attitude towards money is also being challenged.
Yu has always been proud she is the financial backbone of her family, even after having retired almost 30 years ago. Her pension of 4,900 yuan each month has bought the basic necessities and the little luxuries for her family - televisions, refrigerators, computers and her son's car, a vehicle that was upgraded just a few months ago.
She has been getting this amount for the last 10 years, but in the same period of time, she has seen her dollar shrink fast. Inflation is a subject that loosens her tongue and the conversation shifts to milk and garlic.
"All my family members love milk," she says. "But the quantity has become less while the price has become more." She can tell because she has used the same container for milk all this time.
"A few years ago, vegetables bought with 10 yuan were too heavy for me to carry. Now even haricot beans cost eight yuan per kilo."
Garlic is her best indicator. Yu says garlic had always been sold in braids right up until a few years ago. Each braid of 25 bulbs was sold for about one yuan fifty in 2004. This year, a single braid cost her 30 yuan.
"In the past, people used to buy two braids of garlic at a time, but now they buy two bulbs. I have never heard anything more ridiculous," she complains.
When Yu retired in 1983, her pension was slightly more than 1,000 yuan per month. Her pension was raised four times over the past 27 years, but the price of garlic has gone up about 20 times in the last six years.
Yu lives with her son, daughter-in-law and grandson in an 80-sq-meter apartment built in the 1980s. Her daughter-in-law, an accountant, manages the money in the family. After she retired in 2009, she decided to work part-time to supplement the family income.
Yu's biggest regret currently was not putting aside a down payment for her grandson while property prices were still manageable.
"Now we don't even think about it, because we can't afford it anymore," she says.
She loves to travel and she has gone all around China from Xi'an and Dunhuang on the Silk Road to Hongkong and Macao and all of China's famous mountains. She used to visit two places every year, but stopped when it became too expensive.
"In 2005, a 12-day trip along the Silk Road cost only 2,000 yuan per person. Now the price is around 6,000 yuan," she says. This year, apart from a trip to Shanghai for the World Expo in September, Yu has stayed home.
But things may change yet again as the old lady rethinks her money strategies. This year, she plans to travel more and maybe catch a few movies with her grandson in-between tours.
"I used to love saving up," she says. "But money has become a lot less valuable in the bank. So I figure I should spend it where it is needed and enjoy life."