Guangdong: Riding the rising yuan
As China's currency grows stronger, the small businessman at home feels the hardest pinch, Li Wenfang reports.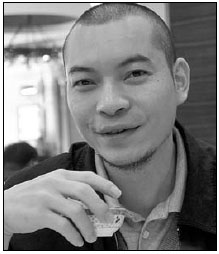 Entrepreneur Zhang's strategy is play mahjong, drink tea and wait out the current crisis. [Photo by Zou Zhongpin / China Daily]
Zhang Xiaoliang, a vendor of sewing machines for the garment industry, is downsizing to the minimum. From a staff of 12, he has trimmed all the fat and muscle to the bare bones, keeping just one employee who doubles as delivery, maintenance and salesman.
He started his company in December 2007 to bank on the strong garment manufacturing in Guangdong province, but after just a year, he found himself in the eye of the storm of the economic downturn.
He barely broke even in 2008 and could hardly cover his personal expenses of about 100,000 yuan a year in 2009, let alone the 200,000 yuan annual expenditure his company needs. The reason was the rising yuan.
"Because of the much stronger yuan against the US dollar, many factories went bankrupt and more will follow," he says.
Since China's central bank announced it would reform the exchange rate mechanism, the yuan has appreciated 3 percent against the US dollar at the peak.
"I feel numb whenever I check the exchange rate online."
Additional challenges come with the rising cost of raw materials and labor, and the garment factories still around are freezing expansion plans, and demand for Zhang's machines.
In less developed areas like Jiangxi province, second-hand machines sell better and there is too much competition.
Zhang wrapped up his domestic business last year and began selling sewing machines to Chinese firms starting factories in Vietnam and Cambodia. But there were new hurdles.
"We are new there and there is the language barrier."
Now, Zhang spends 3,000 yuan supporting his solitary worker and another 500 yuan on warehousing. If new business comes, he will hire temporary workers to install the machines.
To keep the company going, Zhang sold off his mutual funds at a loss of 70,000. He also sold his apartment.
He locked himself up in a rented room for a month and refused to switch on his mobile phone. Finally his wife told him to face the facts, even if the sky had fallen on him.
With a three-year-old son to raise, Zhang feels the pressure. The 35-year-old can hardly find a job paying at least 5,000 yuan a month, and poor business means he has to while away time playing mahjong and drinking endless cups of morning tea.
He cannot afford to close the company for good, because that will mean he loses any chance of recovering the 800,000 yuan in street debts. He had to give up another 400,000 yuan after the client's factory was sealed after it failed to pay wages.
In the meantime, the young entrepreneur is looking for other outlets - like brokering labor for construction projects. Some friends have suggested that Zhang go back to farming or raising chickens, but he's too used to the city life now.
His best strategy now seems to be wait and see.