Shanghai: Nest Eggs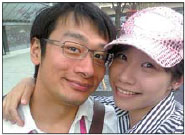 Sun Yanfeng and Wang Siqi meet real estate agents twice each month. [Provided to China Daily]
For this engaged couple, buying a house is the first step to security in a city of sky-high real estate prices, they tell Wu Yiyao.
Sun Yanfeng, 25, is about to get married to the lady of his dreams, 28-year-old Wang Siqi. But first, they plan to buy a place of their own.
The secret is to be well-prepared, they say, and wait for the craziness to subside.
"We think 2011 will be the right time to buy an apartment because we expect property prices to fall. All the experts are saying the prices will subside this year," says Sun.
However, in the last but one week of 2010, the average residential property in Shanghai reached 24,000 yuan per square meter.
Both Sun and his fiance are employed by a prominent media group and they seem undeterred.
Paying for the apartment will not affect the young couple's quality of life drastically because they have saved enough money to put down 30 percent as down payment. With an annual income of more than 200,000 yuan, they can afford the mortgage without too much financial stress. So they are unlikely to cut back on their current expemditure on entertainment, dining out and going on holidays.
"Probably one obvious impact will be not being able to invest in the stock market, but that will have to take a backseat to starting our own family," he says. The rest of the cost of the apartment will be covered by his parents in Changsha, the capital of Hunan province.
Sun's mother has invested in real estate for years and currently owns three apartments.
"My mom is going to sell one of the properties to help us buy our apartment in Shanghai," he says. Sun says he is not going to ask his fiance or her parents to contribute to the purchase, but her name will be down on the title deed.
"It is traditional for the husband to shoulder the responsibility of providing the family home. My mother says we will wait for the best time to sell the Changsha apartment and buy the Shanghai property."
To make sure they catch the best deals, the couple has been tracking the property market, browsing real estate websites and visiting real estate agents around the city at least twice a month.
They have narrowed their choices to two apartments in Jiading and Putuo districts, both costing below 20,000 yuan per square meter.
But what if property prices do not fall in 2011?
"We will wait another year."