Beijing: Finding her niche
For this fresh university graduate, just surviving in Beijing can be tough. Wang Wei shares some time with a 24-year-old out on her own in the big city.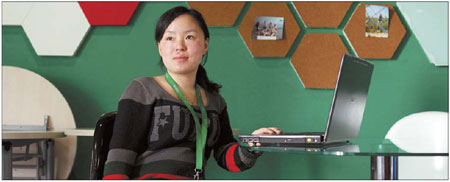 Zhi Junmei copes with a small income and even tinier apartment, but she expects her persistence to pay off one day. [Photo by Zou Hong/China Daily]
A year and five months after she graduated from the Beijing Technology and Business University, Zhi Junmei has already gone through four jobs. One of them lasted a week.
She has finally settled into a job managing software configuration in an IT company, and takes home about 3,000 yuan a month - double what she was offered in her first job. Still, the 24-year-old computer science major from Hebei earns less than a stylist in a hair salon.
In the first six months after graduating, Zhi sent out hundreds of copies of her resume and attended endless interviews in her search for the perfect job - one which would give her a decent salary and room for career development .
She has been with her current employer for 10 months now, the longest she has held down a job. She gets along well with her colleagues and the job is challenging. The fly in the ointment is her salary, which is barely enough to live on in a big city like Beijing, where inflation and rocketing property prices are often headline news.
"I love and hate Beijing at the same time," she says. "I love it because it is a bustling and tolerant city. I hate it because of the hurtling pace and because it's hard to make a living. It doesn't give me a sense of belonging."
Zhi has to make sure every penny she earns is prudently spent.
She shares a one-room apartment located along the Third Ring Road, and she pays a third of the rent, forking out 500 yuan each month.
The room is so crowded she has to turn sideways to reach into her wardrobe.
Zhi rarely goes shopping and when she does, it's to the cheaper clothing market rather than the big shopping malls. There is not much entertainment either, and her favorite distraction is cooking for her friends.
After dealing with rental, food and transport costs, she saves about 500 yuan a month, money she either puts into the bank or saves up to give her parents, who invested in her education.
When asked what her resolutions for 2011 were, she lowered her head and thought for a long time.
"I don't have unrealistic goals like buying a car or a house in Beijing. I just want to learn something I am interested in, so I can be more competitive," she says.
It's an objective she has already started work on. About three months ago, Zhi started taking part-time classes in teaching at the Beijing Normal University at the weekends. On weekdays, she often studies until midnight.
She dreams of becoming a teacher in the future.
"I believe the key to success is persistence. As long as I work hard and never give up, I am sure I will realize my dream some one day." And in her case, the little economic inconveniences now are just little hurdles to be overcome. Young girl, big dreams.