Neighbors consider cooperation on road and railway construction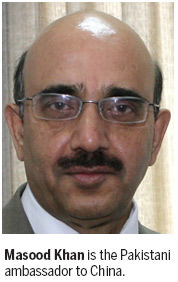 BEIJING - Jets, roads, railways and civilian nuclear facilities are among the projects of cooperation between Beijing and Islamabad, said Pakistan's top envoy to China.
"The JF-17 (a combat aircraft developed by China and Pakistan) is a prized asset for China and Pakistan, and now we have the platform of cooperation. We'd like to further develop it," Masood Khan, Pakistani ambassador to China, said in an exclusive interview with China Daily prior to Premier Wen Jiabao's visit to the country from Dec 17 to 19.
Khan said his country would like further cooperation with China in military and civilian aircraft.
The JF-17 Thunder jet, produced by China and Pakistan, debuted in London this year and attracted worldwide attention for its technology and affordability. Khan said the first batch of 42 jets is now being produced in Pakistan, and Islamabad is also "looking for more than another 200 aircraft (to be produced) in the future."
Wen is scheduled to address a joint session of the parliament on Sunday. The premier is said to be accompanied by a 300-member business delegation, more than the previously planned 150.
In November, Pakistani President Asif Ali Zardari visited China for the sixth time since he was elected head of state in 2008. He met Wen on Nov 12 when the two attended the opening ceremony of Asian Games in Guangzhou. The leaders were reported to have talked about more railway links.
The ambassador also talked about the civilian nuclear cooperation between the two neighbors. "The nuclear project is an ongoing cooperation between the two countries, and whatever we do is under the IAEA (International Atomic Energy Agency) safeguards and in accordance with international law," Khan said.
In late July, the South Asian nation was severely affected by floods triggered by monsoon rains, the worst natural disaster Pakistan has seen in its history.
Khan said as well as upgrading existing roads and enabling them to withstand all weather conditions, the country is also looking for more ways to connect closer to China.
"The feasibility (of linking the two countries through roads) has been confirmed, and though difficult, it is not a pipe dream. I'm sure the next step is within the power of the two governments."
Talk about railway construction through the two countries has been going on for some time, "but the railways are purely aimed at economic development," the ambassador added.
There are currently more than 120 Chinese companies working in "all sectors" in Pakistan, the ambassador said. In the meantime, trade volume between Pakistan and China is increasing at 30 percent a year and is likely to increase to $18 billion in less than five years, from the current $7 billion.
Apart from economic and other bilateral issues, Khan said the two sides will also review regional and international situations.
"We have to look at how we can cooperate even more closely in international forums," he said.