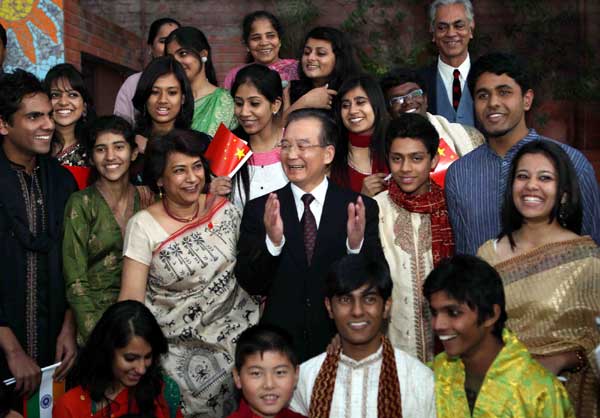 Chinese Premier Wen Jiabao poses for a photo with students at Tagore International School in New Delhi during his visit to India, Dec 15, 2010. [Photo/Xinhua]
NEW DELHI - Visiting Chinese Premier Wen Jiabao taught students here on Wednesday with traditional Chinese calligraphy to send a message of China-India friendship.
Dipping a writing brush in black ink, Wen wrote the Chinese characters for "China-India friendship" on a piece of white paper, and then wrote the same characters again on a board.
Wen had an hour-long interaction with some 50 teenagers and teachers in the Tagore International School here Wednesday afternoon. Topics ranged from the Chinese language and calligraphy to yoga and Indian poet Rabindranath Tagore.
Greeted by the students as "Grandpa Wen," the premier said he had been deeply touched by the gracious hospitality of Indian people since he arrived in New Delhi earlier Wednesday.
Named after Nobel Laureate Rabindranath Tagore, the school was founded in 1964 with the aim of creating a cool atmosphere where children develop their personality to the fullest extent.
The school has an exchange program with the Jinyuan Senior High School in Shanghai, China, which includes video-conferenced yoga lessons for Chinese students and calligraphy lessons for their Indian fellows.
Calling language an important tool for heart-to-heart communication and a bridge for friendship, Premier Wen said he was very glad to learn that India plans to teach Chinese language in secondary schools as from next year.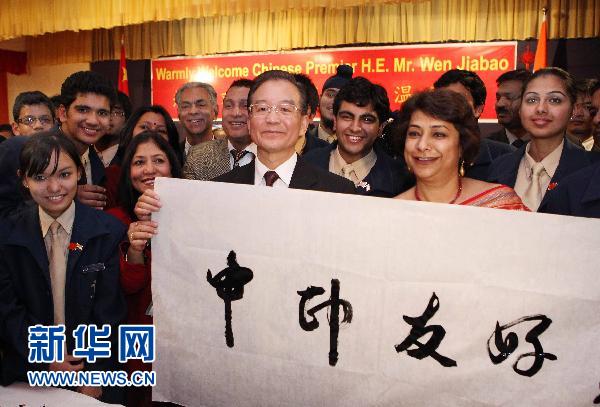 Chinese Premier Wen Jiabao shows his calligraphy work with Chinese characters on which read "China-India Friendship" during a visit to Tagore International School in New Delhi, Dec 15, 2010. [Photo/News.cn]
Wen's visit to the school comes at a time when Indian people's interest in Chinese language is growing as the two emerging economies seek closer ties. The Indian Central Board of Secondary Education (CBSE) has announced plans to introduce Chinese as a foreign language in its 11,000 affiliated schools next year.
"The introduction of the Chinese language in the curriculum by the CBSE is a very meaningful step, and will give a strong boost to our friendly exchanges," Wen said.
He encouraged the students to study hard, think independently, and serve as envoys for China-India friendship.
When asked by a student whether he knew about Tagore, Premier Wen said the poet, who visited China in 1924 and spent quite a long time in Shanghai, was a household name in China.
The older generation of Chinese literary giants, including Liang Qichao, Bing Xin and Xu Zhimo, were greatly influenced by Tagore, he added.
He noted that Indian President Pratibha Patil visited China in May this year and unveiled a bust of Tagore in Shanghai.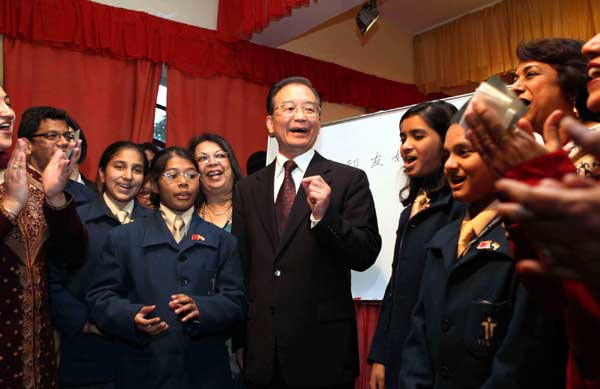 Chinese Premier Wen Jiabao teaches students to pronounce the Chinese characters for "China-India friendship" at Tagore International School in New Delhi, Dec 15, 2010. [Photo/Xinhua] 
Wen said China-India friendship dated back to 2,000 years ago.
"Our friendship has made significant progress since the establishment of diplomatic ties in 1950, and in particular, the last 10 years," he added.
China and India have a combined population of 2.5 billion, said Wen, adding that friendship and cooperation between the two countries will influence Asia and make a global impact.
"It was a great experience to be with the Chinese premier. He was really down to earth and spoke at length with us," said Samin Badra, a 14-year-old student at the school.
Wen offered to provide books, audio and visual materials to the school to help teach Chinese.
The Chinese premier arrived in New Delhi earlier Wednesday for a three-day official visit at the invitation of his Indian counterpart Manmohan Singh.