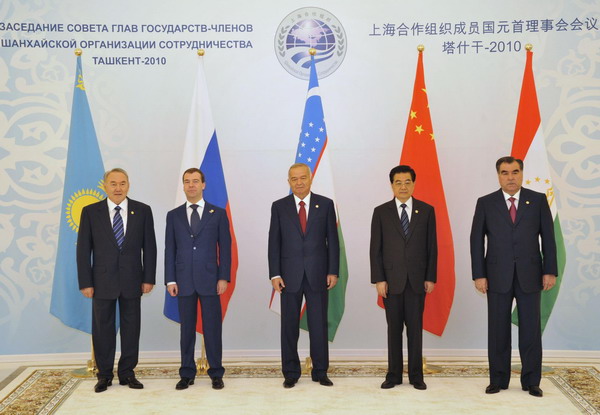 Leaders at the Shanghai Cooperation Organisation (SCO) pose for a group photo in Tashkent June 11, 2010. (L-R) Kazakhstan's President Nursultan Nazarbayev, Russian President Dmitry Medvedev, Uzbek President Islam Karimov, Chinese President Hu Jintao and Tajikistan's President Imomali Rakhmon. [Agencies]
The Shanghai Cooperation Organization (SCO) should strengthen its anti-terrorism power and build up a secure environment for the development of the bloc, Chinese President Hu Jintao said on Friday at the annual SCO summit in Tashkent, capital of Uzbekistan.
Full Coverage:


2010 SCO Summit
Related readings:


 Chinese president attends SCO summit in Tashkent


 SCO leaders may make crucial Afghan decisions

 President Hu in Uzbekistan for visit, SCO summit


 SCO facts nail the Western lie
Hu said at the summit that SCO member countries should effectively use its power in cracking down on the three evil forces (separatism, terrorism and religious extremism), enhancing their exchanges of information and border management, and improve the cooperation mechanism in cracking down on cross-border crimes such as drug smuggling.
Hu also suggested the relevant countries discuss legal documents in securing the cross-border gas pipeline that supplies China with Central Asian natural gas.
In addition, Hu urged that SOC member states should find common ground and adopt a common voice on major international and regional issues in a timely way.
SCO members should continue to enhance their strategic dialogue, and coordinate closely on core issues related to the sovereignty, security and development of member countries, Hu said.