Xinjiang soon to be back online

By Cui Jia (China Daily)
Updated: 2010-03-08 07:39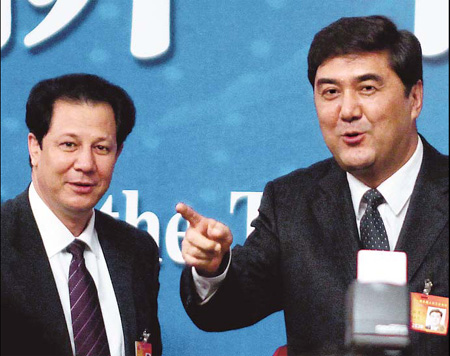 Nur Berkri (right), chairman of the Xinjiang Uygur autonomous regional government, at an NPC press conference on Sunday. [Feng Yongbin/China Daily]
Eight months after deadly riot only some websites are accessible
BEIJING: A senior official of the Xinjiang Uygur autonomous region promised on Sunday to fully lift the ban on Internet service in the region in the near future.
Related readings:


 Internet returning in Xinjiang


 Internet cut in Xinjiang to 'prevent spread of riot'


 SMS returns to Xinjiang
"It won't be long before there's full restoration of Internet service, after it was shut down following last year's July 5 riot in Urumqi to prevent further unrest," Nur Berkri, chairman of the Xinjiang Uygur autonomous regional government, said during a press conference on the sidelines of the annual session of the National People's Congress (NPC), the country's top legislature.
After last year's July 5 riot in Urumqi, which left 197 dead and 1,700 injured, the government blocked access to the Internet and suspended international calls and text message services in the region because they were believed to be vital tools used to instigate the incident.
He said the regional government began to progressively lift the ban on the Internet in December by allowing partial access to 31 websites because the overall situation of the region had become stable. International phone calls and mobile phone text messaging services were also reinstated.
People in Xinjiang are currently able to access all corporate websites that have close connections with their lives, Nur Berkri said.
NPC delegates from Xinjiang hoped Internet service could be fully resumed as soon as possible and called for tightening controls over the Internet.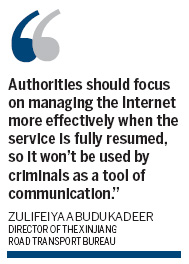 "Authorities should focus on managing the Internet more effectively when the service is fully resumed, so it won't be used by criminals as a tool of communication," Zulifeiya Abudukadeer, director of the Xinjiang road transport bureau, told China Daily on Sunday.
She suggested all Internet users in Xinjiang should have their real names registered so they know they have to be responsible for their behavior on the Internet.
Nur Berkri also said 198 people involved in 97 cases in connection with the deadly riot have been sentenced.
"The investigations, prosecutions and trials are still going on, and the final figure of the number of people sentenced will be more than that," he added.
The July 5 riot demonstrated that the struggle against secessionism in Xinjiang will be long-term, complicated and acute because separatists will continue to do everything possible to sabotage ethnic relations and advocate their ideas of secession.
"We believe they will become more violent after the July 5 riot and will launch new attacks. But no matter what methods they use, they are doomed to failure," he added.
Nur Berkri also mentioned that the imbalance of living standards in Xinjiang is a regional problem rather than an ethnic one.
The imbalance is mainly seen between different regions, urban and rural residents and industries, he said.
In the region, where more than half of Xinjiang's population is of other ethic groups - mainly Uygurs - rather than Han Chinese, underdevelopment is usually caused by history, natural resources, the environment and low production levels, instead of ethnic factors, he added.
Xinhua contributed to the story.