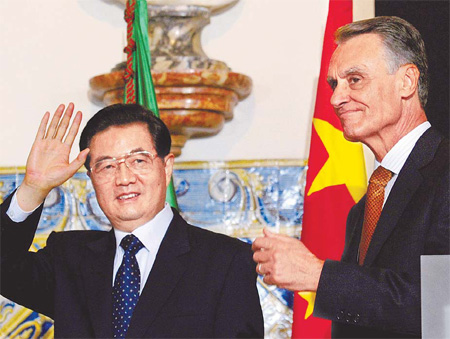 President Hu Jintao and his Portuguese counterpart Anibal Cavaco Silva attend a press conference at Belem presidential palace in Lisbon on Saturday. Francisco Leong / Agence France-Presse
LISBON / BEIJING - President Hu Jintao sealed his four-day Europe visit on Sunday with stronger European ties, both politically and economically, and more support for China ahead of this month's Seoul G20 summit.
Related readings:


 China, Portugal to boost bilateral ties


 Hu, Sarkozy prep for G20


 China to maintain rare earth exports next year


 Hu urges concerted efforts to shore up world economy

The official visits to France and Portugal brought China smoother access to the European market after a number of major trade deals were signed.
On Sunday, Hu presided over the signing of trade agreements and deals on infrastructure, logistics, renewable energy and tourism projects worth $1 billion with Portuguese Prime Minister Jose Socrates. The two sides agreed to work to double their bilateral trade by 2015.
"We are willing to take concrete measures to help Portugal cope with the global financial crisis," Hu said.
Hu also said he will encourage Chinese companies to invest in Portugal, while China invited Portuguese firms to sell more goods in the world's most populous country.
In an example of potential mutual investment, Portugal's largest company and utility EDP said China Power Holding International, with which it signed an agreement for a potential partnership, had expressed interest in buying a stake in the Portuguese company.
Analysts said that Chinese investment will help revive one of the European Union's frailest economies.
The deals came just two days after the 50-member delegation of Chinese company executives inked deals with French companies worth 16 billion euros ($22.8 billion) including the purchase of 102 Airbus aircraft and nuclear plant projects.
"China's deals with Portugal and France showed Beijing's strong confidence and support for their economies," said Jin Ling, a scholar on European studies with the China Institute of International Studies (CIIS).
"The direct help is what European countries need most now," Jin said.
Portugal - like France, where Hu spent three days - rolled out the red carpet for the Chinese leader, with ceremonial activities to convey a warm welcome.
The president began his two-day state visit by laying flowers at the tomb of the 16th century poet Luis de Camoes, whose epic poem "Lusiades" was partly composed in Macao, now Chinese territory but then a Portuguese enclave.
The commemoration was planned to embody the mutual respect of two great civilizations, diplomats close to the visit said.
China hoped to avail itself of Portugal's geography, to advance relations with Portuguese-speaking countries and southern Europe as a whole, Jin said.
As a European Union member and a eurozone founder, Portugal is closely integrated with European markets and enjoys advantages in economic and other ties with Portuguese-speaking countries in Africa and Latin America.
An economic forum on trade between China and Portuguese-speaking countries will be held in Macao on Nov 14 and 15. Premier Wen Jiabao is scheduled to attend.
The head of Portugal's foreign trade agency, Basilio Horta, told the media that Beijing could benefit from a gateway to Europe and to other Portuguese-speaking countries.
China has already developed relations over the years with such countries, notably Brazil and Angola.
China's trade with Lusophone countries has boomed, exceeding $58.5 billion between January and August this year, but its trade with Portugal is still very low.
Portugal ranks 77th on the list of China's suppliers, with goods worth 222 million euros exported last year, and 65th on the list of customers, with imports worth 1.1 billion euros.
Hu's European visit not only achieved stronger bilateral ties but also resulted in greater coordination on global issues ahead of the G20 summit.
As French President Nicolas Sarkozy flew to Nice to accompany Hu for more private talks on Friday, the two focused on the Seoul summit after which France will take the chair. Officials from both countries said that the two leaders achieved a consensus on reform of the global financial system.
In Portugal, President Anibal Cavaco Silva told Hu that as the country is to serve as a non-permanent member of the UN Security Council, it is wiling to strengthen cooperation with China on global issues, including the reform of the financial system and combating climate change.
Feng Zhongping, director of the Institute of European Studies at the China Institutes of Contemporary International Relations, said strengthened cooperation among relevant countries at the G20, "a major platform in a post-crisis era", is of great significance in efforts to handle global problems.
And for Jin from the CIIS, another notable achievement in Hu's trip is that the joint communique between Beijing and Paris for the first time "explicitly" touched upon French support on lifting the European Union's arms embargo on China and the recognition of China's status as a market economy. "That is huge progress," Jin said.
AFP and Yu Yang contributed to this story.
China Daily