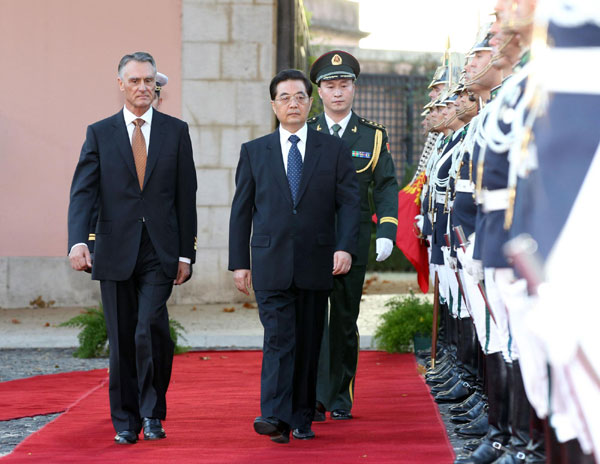 China's President Hu Jintao walks with his Portuguese counterpart Anibal Cavaco Silva as they review the honour guard at Belem presidential palace in Lisbon November 6, 2010. [Photo/Xinhua] 
LISBON - Visiting Chinese President Hu Jintao and his Portuguese counterpart, Anibal Cavaco Silva, agreed on Saturday to further deepen the comprehensive strategic partnership between their countries.
Both China and Portugal boast ancient civilizations and have made great contributions to human progress, Hu said during a meeting here with Silva, noting that the smooth settlement of the Macao issue has set an example for other nations to tackle outstanding historical disputes.
The two countries suffer no conflict of fundamental interests, their peoples cherish friendly feelings toward each other, and their relations have been growing steadily, he added.
Development of bilateral ties since Beijing and Lisbon established diplomatic relations 31 years ago has demonstrated that the two sides should treat their relationship from a strategic and long-term perspective and stick firmly to the right direction for its further advancement, Hu said.
Both countries should also understand and support each other's major concerns and enhance mutual political trust, while further expanding practical cooperation in various fields on the basis of mutual benefit and win-win progress to consolidate the foundation of their relations, he added.
The Chinese side, Hu stressed, appreciates Portugal's adherence to the one China policy and its efforts to promote relations between China and the European Union (EU).
Silva, for his part, welcomed Hu's visit, and hailed the time-honored ties between Portugal and China, which he said were based on mutual respect.
The successful settlement of the Macao issue has created favorable environment for Macao's social and economic development, he said.
Macao has since served as a bridge between China and Portugal as well as other Portuguese-speaking countries, and the forthcoming third ministerial conference of the Forum for Economic and Commercial Cooperation between China and the Portuguese-speaking Countries in Macao is a proof of that, said Silva.
Looking at the future, Hu said that against the backdrop of a complex and volatile international situation, China and Portugal need to make concerted efforts to further boost their five-year-old comprehensive strategic partnership to better benefit their peoples.
In a four-point proposal, Hu expects the two sides to strengthen mutual political trust and strategic cooperation by bolstering high-level exchanges and broadening communication between governments, legislatures and political parties of the two countries.
Meanwhile, China is confident that Portugal will continue to play an active and important role in securing a healthy and steady development of China-EU relations, he said.
he called upon the two sides to shore up economic cooperation and try to double bilateral trade by 2015. He said China is ready to explore with Lisbon ways to upgrade China's economic and trade cooperation with other Portuguese-speaking nations.
Next on Hu's priorities list is that the two sides should step up people-to-people exchanges and further deepen the friendship between the Chinese and Portuguese peoples.
The two sides should make full use of their rich cultural resources to carry out diverse cultural exchange programs so as to bring China-Portugal friendship closer to the publics of the two countries, he said.
The Chinese president also proposed that Beijing and Lisbon beef up cooperation on international affairs and jointly contribute to the construction of a harmonious world.
China values Portugal's important influence on regional and global issues, and is ready to conduct better communication and coordination with Portugal on economic recovery, UN reform, climate change and other matters in order to jointly promote world peace and development, Hu said.
Silva agreed with Hu's proposals, calling the establishment of the comprehensive strategic partnership between the two countries in 2005 a milestone in Portugal-China relations.
Currently, the strategic mutual trust between the two countries has been deepening, and their trade and economic cooperation are developing smoothly, Silva said, adding that he wishes both sides to further achieve the potential to enhance trade and investment with each other, and expand pragmatic cooperation in various fields.
Portugal is willing to conduct mutually beneficial cooperation with China as well as with any third party, Silva said.
Silva hailed China's vigorous economic development and its successful holding of the 2010 Shanghai Expo.
He also spoke highly of China's crucial role in boosting world peace and development, and its contribution in fighting the global financial crisis and promoting the recovery of the world economy.
Portugal expects to see China play a more important role in such issues as the reform of the international monetary system and climate change, he said.
Portugal, taking advantage of its recent election as a non-permanent member of the United Nations Security Council, is willing to strengthen cooperation and coordination with China in coping with global challenges, said Silva, who also pledged his country's efforts to boost relations between Europe and China.
Portugal won a seat of the UN Security Council last month, and will join Colombia, Germany, India and South Africa to serve two-year terms on the most powerful UN body starting January 1.
The Portuguese leader said that President Hu's ongoing visit is of great importance, and will surely push ahead cooperation between the two countries in a variety of fields and turn a new page of bilateral ties.
Hu arrived here Saturday after a three-day state visit to France. He is also expected to hold talks with Portuguese Prime Minister Jose Socrates and other senior officials.
Hu is scheduled to head back for China on Sunday.