PARIS - President Hu Jintao arrived in the French capital on Thursday to kick off a three-day state visit, which the French president said will be of the highest reception level.
Hu was greeted by a grand welcome ceremony right at the airport given by French President Nicolas Sarkozy and his wife. It was the first time that the presidential couple went to the airport in person to welcome foreign leaders, which French diplomats say conveys the importance that France attaches to the visit of Chinese state leader.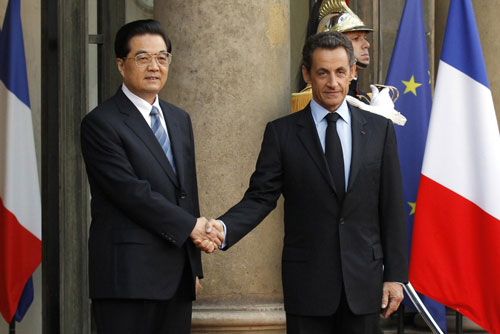 Chinese President Hu Jintao shakes hands with French President Nicolas Sarkozy (R) as Hu arrives at the Elysee Palace in Paris Nov 4, 2010. President Hu is in France for a three-day visit. [Photo/Agencies]
The two leaders were expected to have bilateral meetings as well as witness the signing of a historically huge trade bill, including the purchase of more than 100 Airbus jets and nuclear plant projects.
Sarkozy, though exhausted by continuous strikes at home, will accompany Hu all Friday in Nice for more in-depth and private talks, and will also host Hu in a restaurant which is his personal favorite. All these arrangements are rare for state visits, said diplomatic sources.
In a written speech issued upon his arrival, Hu said China and France, both members of the United Nations Security Council, shoulder important responsibilities for international affairs. He also noted the two share vast common interests and have huge potential for cooperation.
The president expected broad contacts with French leaders and people from all circles in the trip to push forward the comprehensive strategic partnership. It is the first trip by a Chinese state leader to France since Sarkozy assumed office as president in 2007.
Analysts said that coordination on G20 and other global affairs are among the top items on the agenda during Hu's visit.
Mei Zhaorong, a former Chinese ambassador in Europe, said France, scheduled to chair the G20 at the start of 2011, is in urgent need of cooperation from China.
A successful G20 chairmanship, and also many global policies as proposed by France will need the cooperation with China. "That is also one of the reasons behind the extremely high importance Sarkozy attached to Hu's visit," he said.
Analysts also said that as China and France advance their cooperation, it will have an impact on the global political landscape as some western powers are still adopting some cold war mentality toward China in some affairs.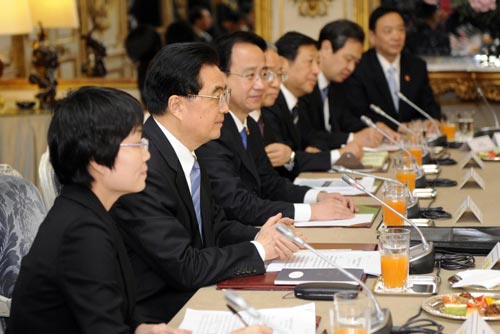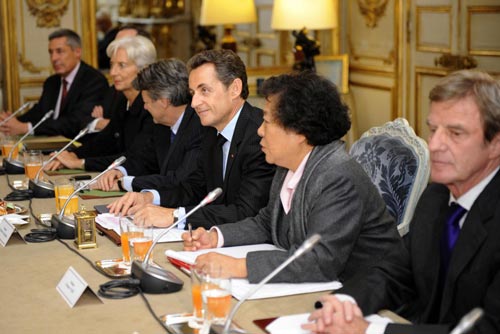 China's President Hu Jintao and France's President Nicolas Sarkozy (C) take part in a round of talks at the Elysee Palace in Paris November 4, 2010. [Photo/Agencies]