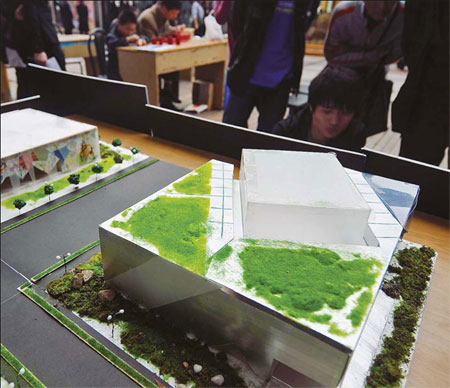 Miniature pavilion building competitions are being held in local schools.
Determined to have his own "Crown of the East", Mao spent several nights studying pictures of the pavilion taken from different angles. He even sketched a perspective drawing for his project.
He finally built up a chopstick version of China Pavilion, alongside his friends' versions of pencils, rulers and paper rolls.
Some builders have even made edible versions of pavilions so share with friends and family.
"I saw someone bake a rabbit-head-shaped cake and was inspired that I could make a cake version of the Macao Pavilion," said An Zhi. "I think I am going to keep it in the refrigerator rather than eat it."
Parents have also found that making miniature pavilions with their children has been a good way to spend time together. They said it was beneficial for their children to learn the skills that come with creating model pavilions.
"Kids may learn a lot about colors, shapes and basic principles of constructing things," said Ma Tingjun, a father of a 3-year-old girl. "It is a good opportunity for me to learn my child's preferences and tastes, too."
Ma said parents can learn a lot about their children from observing their decisions, from choosing what pavilion to make to selecting the materials to make the pavilion.
It also provides an opportunity to cultivate children's awareness in environmental protection.
When 4-year-old Zhou Shengjie was creating his replica of the France Pavilion, he decided to use old newspapers instead of unused paper. "That way I can save a new sheet of paper," he said.
Recyclable materials, including shoeboxes, tins, old newspapers and cards, are all useful and environmentally friendly resources when creating pavilion models.
"One way to ensure a better city and better life is to save everything we can," said Zhou. "My teacher told us that garbage is misplaced treasure. I hope I can give old things new life."
Teachers agree that building miniature pavilions helps students practice teamwork and many schools have organized Expo pavilion building competitions and exhibit them on campus. These competitions help students to learn skills, like teamwork, cooperation and organization, on their own.
Officials working at pavilions in the Expo Garden are glad to see miniature versions of their pavilions as well.
"I'm quite surprised that there are actually people making model pavilions," said Julia Mok-Russo, deputy commissioner-general of the Germany Pavilion. "It is quite meaningful that they enjoy building the models, especially since they're not doing it for commercial purposes."
Mok-Russo said she hoped she could see some of the models and take some pictures.
As most of pavilions in the Expo Garden will be dismantled after the Expo, making a miniature model is also one way to keep the memories from the Expo alive, said Yang Yue, a press officer from the Spain Pavilion.
"We are glad to see visitors making miniatures of our pavilion and would like to circulate their work with the other visitors to promote the pavilion," Yang said.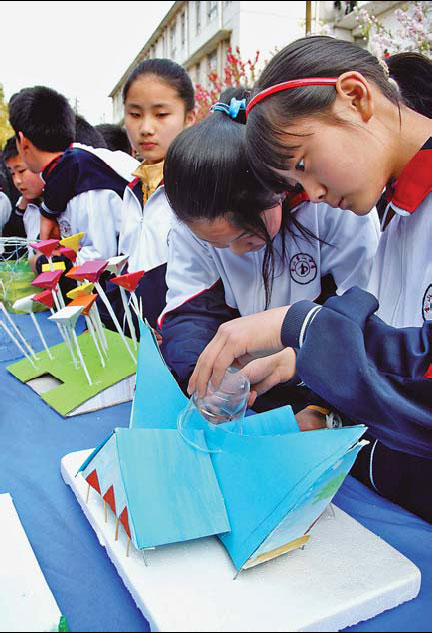 Several high school students construct a miniature version of the Malaysia Pavilion.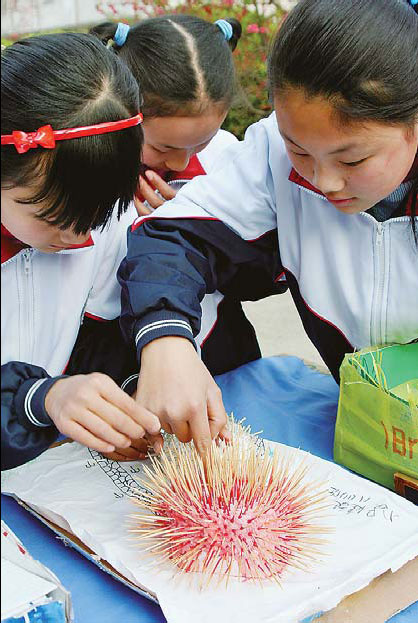 A toothpick version of the UK Pavilion.