Ten do's
1: Do your homework
Expo 2010 Shanghai is enormous. Study maps to make your visit unforgettable. Otherwise you'll only return exhausted and empty-handed. Use travel information from newspapers and websites. Make a personal plan.
2: Avoid peak times
Want to save time and effort? Then avoid peak times. Don't to go during the May 1 and Oct 1 holidays, weekends or summer vacations. The number of visitors will peak between 10am and 2pm. Avoid these times.
3: Dress comfortably
Tight clothes and shoes in hot weather will cause discomfort. So wear loose clothes and comfortable shoes.
4: Eat well
While it may be worth lining up for two hours to have a taste of French cuisine or Norwegian salmon, you can save time by bringing your own food and a drinking cup. There are drinking spots all over Expo Garden where you can quench your thirst.
5: Queue efficiently
Be aware of the details of the pavilion you are about to enter, such as the expected waiting time, number of entrances, adjacent restaurants, etc. Queue politely.
6: Balance pace and rest
Most people want to see as many pavilions as they can in a day. But in all likelihood, you will only be able to manage about five pavilions in one day. However, there are plenty of other attractions to keep you occupied, such as parades and street performances.
7: Know first-aid locations
Shanghai's summer is famous for being hot and wet, and crowds during peak times may be troubling. Bear in mind the location of first-aid stations, especially if you have a medical history. Bring any medication you may require with you.
8: Get the right information
It is a common misunderstanding that volunteers can and will answer all questions. Most volunteers serve for only two weeks and often cannot supply information regarding exhibitions or performances out of their service areas. Keep an eye on the electronic bulletin boards as they will be a better way to find updated information.
9: Make the best use of transport
How to shuttle between Pudong and Puxi? You may choose between the metro inside the Expo Garden or a cross-river bus or ferry.
10: Take care of the elderly and kids
Seniors and the young should get special attention in the expansive Expo garden. Information desks and rest areas provide services in this regard. Be sure to walk hand-in-hand with elderly companions and watch your kids in the crowds.
Ten dont's
1: Don't hinder security checks
Don't bring lighters, matches or knives. You can bring with you some solid food, but beverages are not allowed. Bring folding umbrellas.
A zip-up belt bag containing keys, mobile phones, etc, will greatly speed up your security check at the entrance to the Expo Garden.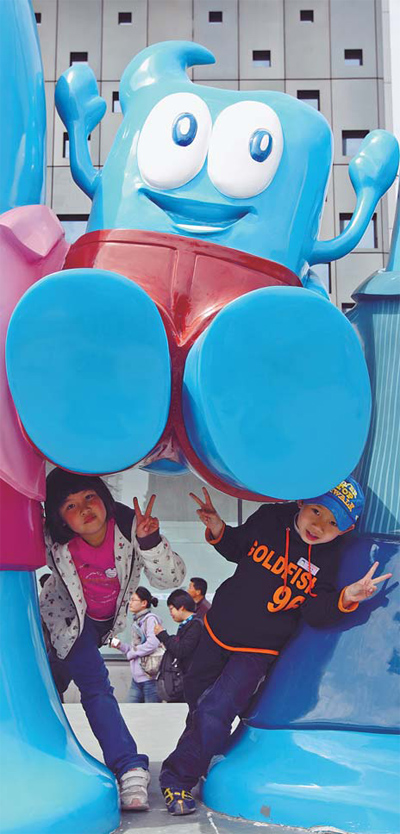 Kids pose with a Haibao sculpture inside the Expo Garden on April 25. GAO ERQIANG / CHINA DAILY 
2: Don't mess the environment
Discarded food packs could be seen outside waiting areas of some popular pavilions during the six-day Expo trial operation. Some dustbins were also surrounded by rubbish. Keep in mind that a beautiful environment demands the efforts of all.
3: Don't overdo photography
A photograph or video cannot surpass the beauty of the original. Don't let cameras be a substitute for experiencing the amazing exhibitions inside the pavilions.
4: Don't get stuck in portable toilets
Visitors often got stuck in the portable toilets during the Expo trail period. This could be caused by the unusual design of the door locks inside, which apparently baffled many people. You may decide to use non-portable toilets.
5: Don't eat in pavilions
Don't eat inside a pavilion. Carelessly dropping or disposing of food could damage the exhibits. Also, you might miss out on something if you are concentrating more on your food that the exhibits.
6: Don't forget the performances
The pavilions are not the only things at Expo. There will be over 20,000 world-class performances held over the six-months of the event. Volunteers will distribute performance programs every day, so catch a show.
7: Be a smart visitor
"Did you make a reservation?" Most pavilions are accessible if you patiently queue, so you don't need a reservation beforehand.
8: Don't ignore Puxi
There are many amazing pavilions on the Puxi side of the Expo garden and the area will likely be less crowded and have a more comfortable environment. The 18 enterprises pavilions and UBPAs are worth a visit.
9: Don't rush for meals
Peak hours for lunch usually start at 11 am. So take time to see another pavilion while everyone else is eating. You can then enjoy great service when you dine at off-peak times.
10: Don't go crazy for gifts
People usually swarm into pavilions that offer free gifts no matter what they are. Even a badge or a pencil is a must-have for some. Focus on what is really important.
(China Daily 05/01/2010 page38)