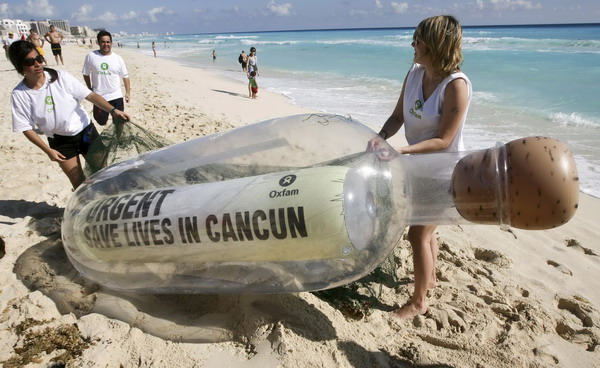 Activists of Oxfam, an international charity, carry a giant bottle, containing a message that reads, "Urgent: Save Lives in Cancun," in reference to millions of the world's poorest people, on the shores of a beach in Cancun, Mexico, on Sunday. [Photo/Agencies]
Reaching legally binding treaty 'not in sight' in Cancun
NEW YORK - China and the United States should cooperate with each other to fulfill their roles in slowing down global warming while pushing forward the upcoming climate change negotiations, which kicked off on Monday in Cancun, Mexico, a United Nations official said.
Related readings:


Sincerity needed for substantial achievements at Cancun meeting 


Climate conference in Cancun 


With political will, Cancun can succeed 


Optimism, though cautious, remains ahead of Cancun conference
In an exclusive interview with China Daily, Robert C. Orr, UN assistant secretary-general for strategic planning and policy coordination, said that as two of the biggest greenhouse gas emitters, China and the US have different economic structures, but they both depend heavily on coal.
"So there're some commonalities between the two countries that people often ignore," he said.
"The size of the two countries means their geography can help solve some of the challenges. There is much room for China and the US to work together on concrete clean energy projects," he said.
Orr said that the "two big players carry a certain responsibility" because they represent developing countries on one side and the most developed world on the other.
"If they can come to an understanding on some key political issues, I think the rest can be agreed upon."
During the last climate change summit in Copenhagen, China and the US disagreed on some key issues, such as ways to share the burden of reducing greenhouse gas, and if developed countries, like the US, owe developing countries a climate debt.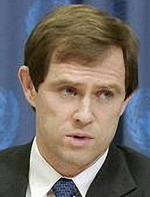 Robert C. Orr is UN assistant secretary-general for strategic planning and policy coordination. 
China and the US had long-standing discussions on issues of mitigation target, transparency and commitments.
"They are two responsible countries. If they work together and agree on the tough issues, this negotiation in Cancun will lead to very good prospects for a successful agreement next year in South Africa," Orr said.
China has kept up its efforts in mitigating climate change. The draft for the country's 12th Five-Year Plan (2011-2015) has listed clean energy development and reductions in the intensity of greenhouse gas emissions as key priorities.
China will also seek to improve energy efficiency laws and standards, build energy-saving market mechanisms while continuing its efforts to establish carbon markets.
Orr praised China's efforts, but he maintained that more needs to be done to adequately address climate change.
"The kind of leadership that a country like China has dramatically shown in a very short time - scaling up its efforts in the area of clean energy and climate change - is encouraging. But it is not enough either for China or any other major player," he said.
Orr said that bilateral agreement and cooperation between the US and China should be encouraged but that alone is not enough.
"We do need a global deal so that everyone can scale up to the sufficient level necessary to meet the full scale of the challenge."
Even reaching a legally binding treaty is not in sight during the Cancun talks, Orr said, adding there will be "a balanced set of decisions" that will move the climate change agenda forward "on all fronts".
He highlighted some major issues, most importantly deforestation, which contributes to almost 20 percent of global emissions, and the wider dissemination of technology and stronger financing.
The agreement over the mobilization of $30 billion over the next three years would help build more confidence in overall financing for the climate change process, he said.
Although UN Secretary-General Ban Ki-moon had made climate change a priority throughout his tenure at the helm of the UN, previous climate change talks in Bali and Copenhagen failed to produce expected results.
There has been criticism on the credibility of the UN and the UN Framework Convention on Climate Change (UNFCCC), which coordinate the negotiations on climate change.
Orr said that the fundamental fact is there is no alternative to the UN for this negotiation. And this global issue requires all players in the world to agree because "everyone is affected and everyone has a piece of the problem and a piece of the solution".
"So you can't have a final negotiation among small sub-groups; you can facilitate a negotiation by working in some kind of sub-groups, which certainly is happening in major economies' forum, such as the G20," he said.
"But there is only one place you can finalize a global comprehensive deal, and that is through the UNFCCC," he added.
"We (the UN) can set the table for the governments, but the governments have to make the decision."

China released a video and a pamphlet to showcase its efforts in combating climate change in Beijing on Monday, just hours before climate change negotiations kicked off in Cancun, Mexico.
The video will be shown at the Cancun conference to make the world better understand China's actions, according to the China Meteorological Administration (CMA).
The video and pamphlet give an insight into China's achievements in combating climate change and its cooperation and exploration in science and technology with foreign countries.
Since 2007, the CMA has released similar videos and pamphlets in several languages every year.
China has finished drafting plans to combat climate change for all 31 provinces, municipalities and autonomous regions in the mainland and started to build eight low-carbon cities and five low-carbon provinces.
In order to further control greenhouse gas emission, China has vowed to cut carbon dioxide emissions by 40 to 45 percent by 2020 from the level in 2005.
Statistics from the National Development and Reform Commission show that China's energy consumption per unit of GDP in 2009 dropped by 15.6 percent compared to 2005, which helped China save 490 million tons of coal and reduce 1.1 billion tons of carbon dioxide emission.
Sulfur dioxide emissions in the country's major cities in 2009 dropped by 24.6 percent than the level in 2005.
The country now has 620,000 square kilometers of artificial forests, the most in the world, with forest coverage expanding by more than 200,000 sq km from 2003 to 2008, statistics show.