BEIJING - Chinese President Hu Jintao put the country's economic tasks on top of next year's agenda in a New Year address broadcast Friday.
In his address to domestic and overseas audience via state TV and radio broadcasters, Hu said to accelerate the transformation of economic development pattern will be a consistent thread of China's work in 2011, the first year of the country's 12th Five-Year Program.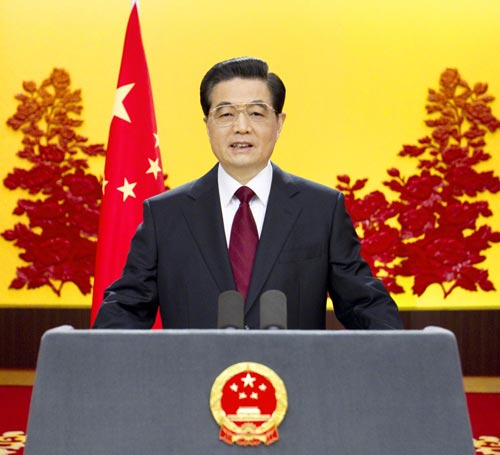 Chinese President Hu Jintao delivers to domestic and overseas audience a New Year adress on Dec 31, 2010. [Photo/Xinhua]
China will adopt a "proactive" fiscal policy and "prudent" monetary policy, speed up economic restructuring, improve people's livelihood and push forward reform and opening-up, he said in the speech titled "Jointly Improve the Welfare of People from All Countries," broadcast by the China Radio International, China National Radio and China Central Television.
The country will stick to the guidelines of "one country, two systems", "Hong Kong people governing Hong Kong", "Macao people governing Macao" and a high degree of autonomy to maintain long-term prosperity and stability of Hong Kong and Macao, he said.
"We will adhere to the principles of 'peaceful reunification' and 'one country, two systems,' firlmly hold on to the theme of peaceful development of cross-Straits relations, continue to advance exchanges and cooperation, and ceaselessly work for the benefit of the compatriots on both sides of the Taiwan Straits," he said.
In 2010, in face of complicated domestic and international situations, Chinese people successfully hosted the Shanghai World Expo and the Asian Games in Guangzhou while bravely fighting against deadly natural disasters including the earthquake in Qinghai Province and the landslide in Gansu Province, he said.
Related readings:


 Hu vows more efforts to help low-income people


 President Hu offers holiday greetings in Beijing

 Chinese FM to visit US to prepare for Hu's visit


 China, US in close touch for Hu's visit
China fulfilled the targets set by the 11th Five-Year Program (2006-2010) and increased its economic and comprehensive strength, Hu said.
The country was also actively engaged and played a constructive part in international cooperation to cope with global financial crisis, climate change and nuclear issues, he said.
"On behalf of the Chinese government and people, I would like to extend sincere acknowledgement to governments and people who offered great help to us this year," Hu said.
Working Together With Other Countries
The world currently is witnessing multipolarization and globalization while science and technological development is on the edge of breakthrough, Hu said.
But the global economy is still moving on a long and winding path towards recovery and issues like climate change, energy, food security and public health security become more serious, Hu said.
"International and regional hot issues have cropped up one after another, while peace and development of the world are facing unprecedented opportunities and challenges."
China will hold high the flag of peace, development and cooperation, adhere to the independent foreign policy, maintain world peace and promote common development, Hu said.
The country will stick to the principle of mutual benefits when opening up itself, he said.
China will develop friendly cooperation with all other countries on the basis of the five principles of peaceful co-existence and continue to actively participate in international cooperation on global issues, Hu said.
"(We) will continue to work with the people of all countries to jointly promote the building of a harmonious world of lasting peace and common prosperity," said Hu.
He also extended sympathy to people who have been suffering from war, poverty, diseases and natural calamities and promised that China will do all it can to help them as it has done before.
"I believe, as long as the people from all countries make efforts hand in hand, the world will have a better future and the welfare of the people from all countries will be improved," Hu said.
An article by Hu on implementing the guiding principles of the Fifth Plenum of the 17th Communist Party of China (CPC) Central Committee will be published in Qiu Shi (Seeking Truth), an official magazine of the CPC Central Committee, on January 1.