BEIJING - More training programs will be offered, at all levels, for spokespersons of government and Communist Party of China (CPC) departments next year to better serve foreign and domestic media organizations.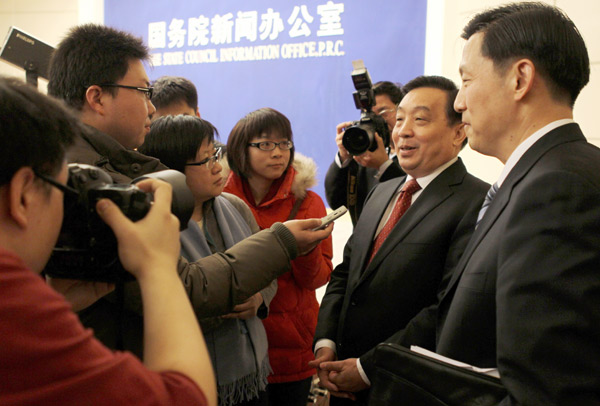 Wang Chen (second from right), minister of the State Council Information Office, is interviewed after a news conference on Thursday in Beijing. [Yang Shizhong / China Daily]
Wang Chen, minister of the State Council Information Office, said at a news conference on Thursday that despite great achievements in establishing nationwide mechanisms to release information some spokespersons fail to do so adequately.
Some authorities fail to deliver timely information or treat reporters properly when news breaks or incidents of public interest happen, and this needs to be improved, he said.
Related readings:


 Spokesperson a bridge between Party and people


 CPC at all levels to have spokesperson


 11 party spokespersons meet media together


 China's Cabinet information office names spokespersons
"Training for government and Party spokespersons will be further increased next year to solve the problem that they dare not say, are unwilling to say or are incapable of saying," Wang said.
"We'll learn from past experience and further improve the spokespersons' news sense, enhancing the government's influence and meeting the public's demand for information."
Wang said distance still exists between what the media expects and what the information office is doing, but setting up a smooth communication channel between officials and reporters is the target.
In an unprecedented move, 13 departments under the CPC Central Committee and all departments under the State Council, the top court and the top procuratorate, as well as provincial-level Party committees and governments in 31 municipalities, provinces and autonomous regions on the Chinese mainland have designated their spokespersons.
The names and telephone numbers of these spokespersons were released in both Chinese and English at the news conference.
In the past year, central and provincial authorities also held 1,876 news conferences, 230 more than in 2009, according to figures from the State Council Information Office.
This marks tremendous progress in improving information transparency, and the next step is to increase the professionalism of official spokespersons, a leading scholar said.
"We're definitely making progress in news transparency," said Li Xiguang, professor of the School of Journalism and Communication at Tsinghua University.
"Ten years ago, we mainly trained press officers how to face Western media organizations, and five to six years ago, it was about how to deal with traditional Western and domestic media. But today, we're facing a new media environment such as the Internet.
"So we need professional press officers now," said Li.
He said press officers in China are mainly selected from government or Party departments who know almost nothing about the media.
And they usually serve short terms so that they hardly have enough time to become professional, he said.
Li has trained press officers for 10 years and since March he has delivered monthly lectures to more than 2,000 local press officers on the concept of news at the Publicity Department of the CPC Central Committee.
The more complete and truthful the information that press officers tell the media, the more objective are the stories that are written, which is a win-win situation for the media and authorities, Li said.