As the year ends, we return to some of the people who told us their stories
In 2010, China overtook Japan as the world's second largest economy, capping the county's swift and phenomenal rise from the frustration and woes left by more than a century of wars, revolutions and counter-revolutions.
Yet, behind this milestone achievement are the intricate, concrete realities of daily life for the average urbanite and rural dweller. Skyrocketing property prices have pushed young office workers into "ant tribes", sharp rises in consumer prices have hit shoppers' pockets, farmers have complained of lost land and stripped rights, and factory workers have struggled to find ways to collectively address their concerns.
Throughout the year, China Daily has sought to uncover the effects these transformations are having on ordinary people. Today, we revisit the characters who helped tell us some of the most important stories of the past 12 months.
On the eve of the 100th anniversary of the 1911 Xinhai Revolution that ended feudalism in China, the 90th anniversary of the founding of the Communist Party of China and the start of the 12th Five-Year Plan (2011-2015), many are now looking to the future.
Yet, only by looking back is it possible to see how far we have come.
Preparing for the journey home

Editor's note: In January, China Daily followed Li Fengcai as he traveled home to rejoin his family in Henan province for Spring Festival.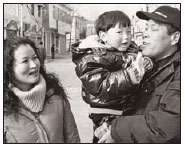 Li Fengcai is reunited with his wife and son in his hometown for the Spring Festival holidays in this file photo taken this year. Feng Yongbin / China Daily 
Most of Li Fengcai's fellow migrant workers have already left Beijing to head back to the countryside on trains and buses, hoping to avoid China's annual travel peak.
The 45-year-old decided to stay a few extra days to collect his wages. He has also promised to wire the cash his co-workers are owed by the boss.
"It's already very cold in Beijing and working at the construction site is difficult at this temperature," he said, "but I'll stay through (until January) to wait for the money."
As a bricklayer in Beijing for 10 years, the most important thing for Li is getting back to his wife and children at Spring Festival, the annual Lunar New Year holiday. During the year, he can only call his family every two or three days.
"My 3-year-old son already knows how to say, 'Daddy take care'. My wife must have taught the children to say sweet things," he said. Every year, Li travels home with about 50 kilograms of luggage. This year, the heaviest item will be a secondhand laptop, which he bought from a company going out of business.
"My children can use the computer to study and play games. My daughter is very excited. It will be our family's first computer."
Li's father-in-law retired from working in construction this year when he turned 61. "Construction companies don't hire people over 60," explained Li, who added that the fact reminds him that, with no healthcare or social security available for retired migrant workers, the only thing he can do is save as much as he can now.
On the upside, however, "as I work 11 hours a day and the construction company provides us with food and accommodation, inflation has not really affected me".
Duan Yan
To read the original story, visit: http://www.chinadaily.com.cn/cndy/2010-02/12/content_9465842.htm