SHANGHAI - Every month when he got paid, Wang Zhehua, a bus driver in Hangzhou, Zhejiang province, would give a portion of his paycheck to his wife, then freely spend the remainder any way he pleased.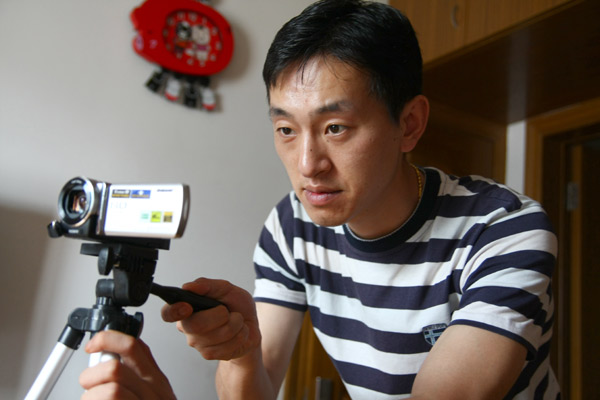 Wang Zhehua, a bus driver in Hangzhou, capital of Zhejiang province, makes videos to earn extra money for his survival campaign in this photo taken in early September. [Provided to China Daily]
Of his 2,000 yuan ($300) in monthly pocket money, it wasn't unusual for him to drop five or six hundred for a big dinner with friends. Add to that cigarettes, cell phone bills and impulse purchases, and it wasn't hard for him to burn through all his cash each month.
Then on a sudden impulse one day in mid August, Wang -- who describes himself as a playful boy by nature -- decided to challenge himself and see if he could make his 2,000 yuan from that month last for the rest of the year -- all 142 days.
"It was like enlightenment when I suddenly found it terrifying to spend money like there is no tomorrow," said the 31-year-old father from Hangzhou.
Wang dubbed the attempt "an urban survival challenge".
His housing, as well as his water and power expenses, would be taken care of by his and his wife's combined income, but he had to rely on the 2,000 yuan for his lunch and supper, which he usually buys on the road during the day, plus for cigarettes and mobile phone bills.
The money also has to cover other social functions like dinners with friends or gifts for friends' weddings.
If the money isn't enough, he pledged to find other ways to supplement his income, rather than dip into his wages, which he hoped to save for his daughter's education.
"Rule No 1 is that I shall keep my salary intact and not borrow money from anyone."
Wang admitted he didn't know exactly how he was going to carry out his plan.
All he knew was that at a time when consumer prices were growing faster than his 5-year-old daughter's height, learning to economize might be the only solution for a family to survive in the capital city of Zhejiang province, where many of the newly rich in China are gathering.
To show his determination and invite more "ruthless supervision", Wang kept a daily update of his progress on one of the most popular websites in the city, which has attracted nearly 10,000 visits.
Some people offered support, suggesting Wang invest in the stock market, which Wang turned down immediately as being "too risky".
Some teased him with ideas like becoming a vegetarian or collecting used paper and cardboard for extra money.
Some doubted his chances of success, while others showed interest in trying the challenge themselves, considering the difficulty in making ends meet in the face of rising inflation and increasing costs of living.
When Wang finished his first day, he recorded it in his online diary as being "painful and profitless" with expenses of 18.50 yuan - 10 yuan for cigarettes and the rest for meals.
And so he continued through the month. The lowest daily expenditures were five yuan when he skipped smoking and bummed a meal from friends. The highest reached 300 yuan for his mobile phone bill and a friend's wedding.
By the end of August, he had only around 1,200 yuan left with still 120 days to go.
"It was 10 times harder than I expected. I had even thought of quitting smoking. But the anxiety of squeezing every penny out of everything just added to my smoking addiction," Wang said.
"Strictly speaking, it isn't a survival challenge because I didn't pay for my housing or the water and the electricity I used. But the situation has already made me desperate."
In September, Wang started to change his strategy by tapping into new sources of income while reducing expenditures. He bought lottery tickets, took advantage of his job to record interesting stories on the bus for a local newspaper, and made videos for others.
He also rented the corner of a shelf in his friend's store to sell stationery and accessories.
The monthly rent is 50 yuan, and in return Wang makes 300 to 400 yuan a month, with which he pays his phone bills.
"To be honest, I didn't get rid of my lavish habits entirely. I still love treating my friends and myself with wine and dinner once in a while. That's why I could run out of cash sometimes despite the extra income every month," Wang said.
"But I have learned to make more money, which is bringing pleasure to me both financially and mentally," he added.
Wang still had 200 yuan by Dec 26, five days before the end of the year.
"It's still hard to say whether I can make it. No one knows what will pop up tomorrow -- for example, an invitation to a friend's wedding, which you simply can't turn down," he joked.
"But it doesn't really matter any more. At least I have saved 15,000 yuan, my five months' salary," he said.
Wang said he would save the money as an education fund for his daughter, who will start school in two years.
"I hope she can excel in school, and make enough money to be a carefree big spender one day," said the father, solemnly and upbeat.