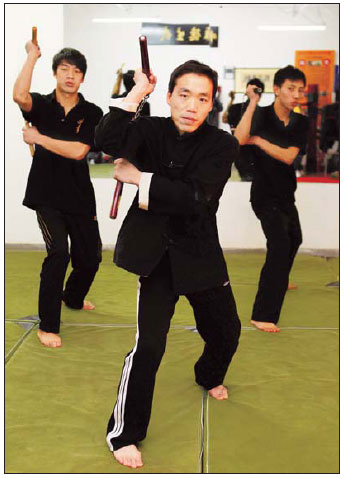 Jeet Kune Do is attracting a growing number of practitioners, who love it for its freedom of style and expression. [Photo by Wang Jing / China Daily]
For die-hard Bruce Lee fans, just watching his films so often they can repeat the dialogue word for word is simply not enough. Many take it a step further by learning Jeet Kune Do, the martial arts school founded by the kungfu star.
Jeet Kune Do, literally translated, means the "Way of the Intercepting Fist". It is a hybrid system and philosophy drawn from the eclectic martial arts knowledge Bruce Lee gathered in his lifetime, incorporating direct, non-classical and straightforward moves.
Related readings:


 Way of the dragon: the Bruce Lee look

 Bruce Lee biopic tracks action hero's early life


 Giant Bruce Lee statue welcomes kungfu fans


 Bruce Lee's fans pay tribute to idol at Expo
However, while Jeet Kune Do gained great popularity and millions of practitioners (especially in the West) in tandem with Bruce Lee's ratings at the box office, it only stood its ground against other mainstream martial arts schools until the 1990s.
Wang Desheng, a long-time Lee admirer, did not hesitate when he received an enrollment advertisement for Jeet Kune Do with Lee's portrait on it in 1997. A practitioner of martial arts and free combat since the age of 13, Wang had always enjoyed Lee's movies in his post-training hours.
"At the martial arts school, we were only allowed to go on the streets a few hours a week. Thanks to Lee's movies, like Fist of Fury and Enter The Dragon, the days were always exciting," Wang, 34, says.
"Every boy had Lee as his icon. But there were no schools teaching Jeet Kune Do on the mainland and when I found out there were finally to be Jeet Kune Do lessons, I knew I had to grab the chance."
With his well-grounded basic techniques in martial arts, Wang mastered Jeet Kune Do quickly and soon became a top practitioner in Beijing. In 2007, he opened his own club and has since recruited about 1,000 disciples since, whose ages range from six to 44.
"The most attractive part of Jeet Kune Do is the simplicity and directness. It doesn't emphasize set patterns, but the effectiveness in practical play," says Wang.
"It allows you to be yourself, and different people can have different interpretations, just like in piano music, there are a hundred different (Frederic) Chopins in a hundred persons' heart."
Unlike more traditional martial schools, Jeet Kune Do, which involves kicking, punching, trapping and grappling, is not fixed or patterned, and adheres to a philosophy with guiding principles.
In a 1971 Black Belt Magazine article, Bruce Lee had said: "Let it be understood once and for all that I have not invented a new style, composite or modification. I have in no way set Jeet Kune Do within a distinct form governed by laws that distinguish it from 'this' style or 'that' method. On the contrary, I hope to free my comrades from bondage to styles, patterns and doctrines."
"That's also why I like Jeet Kune Do so much," said Wang Qiu, 23, who had practiced Jeet Kune Do for six years. "It doesn't confine you at all. It frees you.
"I never had to use it to fight anyone in the past six years, but I am loving it more and more."
Despite the increasing number of enthusiasts in China, experts warn that Jeet Kune Do is still developing, compared to other combat sports like taekwondo.
"Almost every Chinese knows Bruce Lee, but those who have heard of Jeet Kune Do are far less," says Zhu Jianhua, secretary-general of China Jeet Kune Do International Federation.
"Unlike taekwondo, in which you can officially upgrade to a higher level after examination in China, the Jeet Kune Do training and promotion is not professional and standardized yet," he tells China Daily.
In 1996, Zhu went to the US to meet other disciples and has kept up the exchanges since. He also invited Daniel Lee, Bruce Lee's first-generation disciple, to China several times to share his experience and skills with local instructors.
While helping to set up Jeet Kune Do clubs all over China, Zhu is also compiling textbooks to be used in colleges, as quite a few institutions have shown interest in introducing Jeet Kune Do into the curriculum.
"For a long time, there was no real Jeet Kune Do in China, but only 'movie Jeet Kune Do'," says Zhu.
"It's now time for China to have some really serious training program for those who have a great passion for the art. This way, we can pass on the not only the physical skills, but also the spirit and philosophy of the great Bruce Lee."