NANJING - A 4-year-old giant panda died of epilepsy Thursday at a zoo in Nanjing, East China's Jiangsu province, zoo officials confirmed Friday.
Lang Lang, who was among the eight "Olympic pandas" on display in Beijing in 2008, fell ill on Nov 9, said a spokesman with Nanjing Hongshan Forest Zoo.
"Lang Lang suffered seizure and was diagnosed with epilepsy. His condition was stable after treatment and he began drinking and eating as normal on Nov 16," said the spokesman surnamed Qin.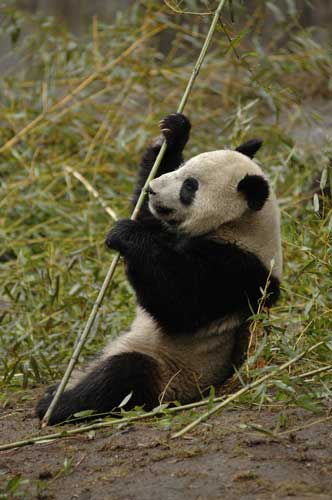 Lang Lang, a 4-year-old giant panda died of epilepsy Thursday at a zoo in Nanjing, East China's Jiangsu province. [File photo/China Daily] 
However, the panda suffered another seizure on Dec 1 and was in a coma for more than two weeks until he died at 6:30 am on Dec 16, Qin said.
Panda experts and vets from the Jiangsu and Sichuan provinces kept a 24-hour watch on Lang Lang, hoping to save him with massage and other therapies.
Professor Yao Huochun, of Nanjing Agricultural University, said they had ruled out brain damage, leaving "severe essential epilepsy" as the most likely cause of Lang Lang's death.
Panda researchers from Nanjing and the Wolong Giant Panda Protection and Research Center in Sichuan carried out an autopsy Friday morning, but no result was published until midday.
Lang Lang's body would be shipped back to his ancestral home in Sichuan.
Wolong center director Zhang Hemin said Friday epilepsy could be common among elderly pandas. Two pandas died of the disease in Wuhan, Central China's Hubei province, in 1989 and 1995 respectively, but both were over 20 years old.
"The disease could be hereditary when found in a young panda like Lang Lang," said Zhang.
The Nanjing zoo has put Lang Lang's two sisters, Cui Cui and Duo Duo, under 24-hour observation though they appear perfectly healthy.
The panda trio were loaned to the Nanjing zoo under a two-year contract with Wolong center from April 2009.
Lang Lang was the fourth Wolong panda to have died away from home. On July 5, panda Shui Ling died of illness at Beijing Zoo. Two weeks later, panda Quan Quan died after inhaling toxic gas at Jinan Zoo in the eastern Shandong province. On Sept 9, Xing Xing, 14, died at a zoo in Kobe, Japan, after vets sedated him to collect sperm for artificial insemination.