BEIJING - Mehernosh Pastakia's is probably the most well known Indian name in Beijing and with good reason.
The Parsi boy from Mumbai, who was hired to run an Indian restaurant in Beijing in 1991, is today the most desirable contact a newcomer from India could wish to make in the city.
Every year on Diwali, the biggest nationally celebrated festival in India, Pastakia sends a box of sweetmeats to each Indian he knows living in Beijing.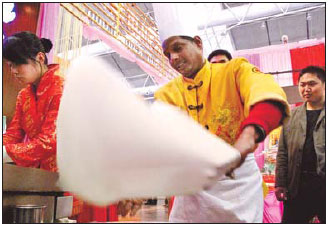 An Indian chef demonstrates how to make rumali roti - a thin Indian bread - at a wedding exhibition held in May in Nanjing. [Wang Xin / for China Daily]
The owner of the popular Taj Pavilion chain of restaurants is also known for inspiring a feeling of community among Indians living in Beijing, who number less than 1,000, and for serving as an informal, yet effective, link between them and the Chinese.
Pastakia is a modest man and plays down his extraordinary achievements. He declines to talk about serving high-ranking Chinese ministers and Indian Prime Ministers Atal B. Vajpayee and Manmohan Singh, who wrote in the visitors' book that the fare served at the Taj Pavilion was indeed "authentic Indian".
He is guarded about donating the proceeds of weekend sales to help run a school, a practice he has engaged in every year over the past decade to mark the restaurant's anniversary.
He also heads a registered charity, the Beijing Charitable Association, which is making an impact in the field of educational support.
"We don't want to advertise our efforts, we would rather have the people feel it themselves," he said.
Back in 1991, two months after his arrival in Beijing, Pastakia was convinced he was here for the long haul. By then he had met Zheng Xiaowen, his accountant, and knew she was the one for him.
China also offered more opportunities, he said.
A year after they married in 1997, the couple opened their first Taj Pavilion restaurant in the China World Trade Center.
Business has grown since then and they have opened two more outlets in the capital.
After initially catering to largely a Western clientele, the Taj Pavilion has since become a hit with the Chinese as well.
The couple's 10-year-old son, Kershaps, has "adapted well to both cultures", Pastakia said. While Chinese is his favored language, when it comes to food he is partial to butter chicken.
After almost two decades in Beijing, Pastakia has maintained strong ties with India. "I have two homes now," he said. "I feel affection for both countries."