BEIJING - About 70 percent of Chinese women expect their future husbands to have a home and a steady income as two preconditions for saying "I do", according to a survey released on Wednesday.
A majority of the men polled said they would get married when they have secured a stable income, according to a survey jointly conducted by the Chinese Association of Marriage and Family Studies, a committee of matchmaking service industries under the China Association of Social Workers, and Baihe.com, a major matchmaking website.
However, only 48 percent of the male respondents agreed that a home is an essential prerequisite for marriage.
The survey, which polled 32,676 people nationwide aged between 20 and 60, found that 40 percent of the female respondents regarded a public servant as the ideal occupation for Mr Right, while 38 percent of male respondents would like their future wives to be teachers.
"The civil service is viewed as a decent career choice in China, an 'iron rice bowl' occupation with a stable income and benefits," said Su Qin, an agony aunt in Beijing.
Su also said Chinese men usually assume teachers are gentle, good at communicating and, with two long holidays a year, have more time to care for family members, which all fit their traditional requirements for good wives.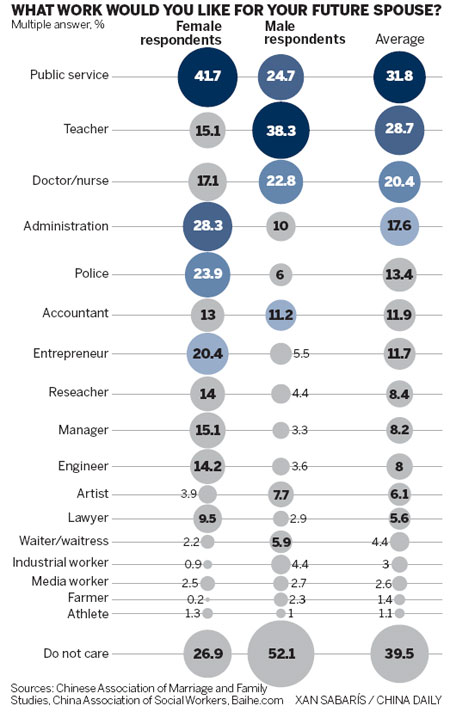 While 54 percent of the male respondents said they valued appearance when choosing a mate, only 22.9 percent of the female respondents shared their view.
The survey also revealed that more than 60 percent of the female respondents expect their future partners to show excellent performance at work. In contrast, less than 21 percent of the male respondents expected their wives to be competitive in their careers.
Noticeably, more than 84 percent of those polled said that a woman under the age of 28 is a good catch for marriage and age is the biggest pressure placed on women to get married.
Mora Li, a 28-year-old office worker in Beijing who is anxious to get married before she hits 30, has registered with Jiayuan.com, a popular matchmaking website, in the hope of finding her prince charming.
"My parents have been nagging me to find a husband since I turned 25. As times goes by, I panic at times about becoming a shengnu (leftover woman)," Li said. "Women like me, who don't have Beijing hukou (household registration), long for a small space that really belongs to us, which would make us feel settled. That's why we tend to date someone who has a house in the city."
The survey discovered that the main reasons cited by both men and women for being single are a small social network, too busy at work to start a relationship and too shy to take the initiative to find true love.
Cang Wei contributed to this story.