The fast and the furious steer toward charity. Li Li in Beijing reports.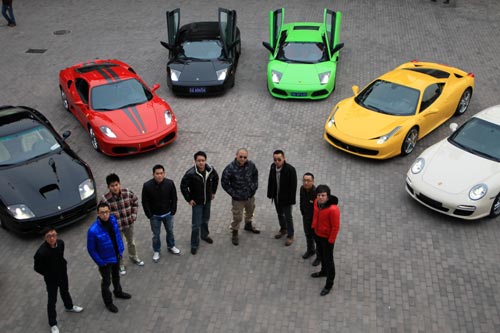 Members of the Beijing Supercar Club (SCC) pose with their cars at Beijing's 798 Art Zone. Most members of the SCC are children of wealthy parents. [PHOTOS BY WANG JING / CHINA DAILY]
It was 10 pm on a frosty winter night and Zhang Kuan was sitting with his friends around a street-side barbecue stand. Just visible through the smoke behind them stood a bright green Lamborghini and a shiny black Ferrari.
"Don't think people who drive supercars don't eat street food," smiled Zhang, owner of the Lamborghini, as he chewed on an oily meat skewer.
As the group ate on the street outside Beijing's Poly Theater, several people stopped to admire the cars, including two young women who posed for pictures with the chic machines.
Yet, not everyone was pleased, with one passers-by grumbling under her breath about "rich kids showing off".
After a series of high-profile traffic incidents involving children of wealthy and powerful parents, netizens and the media have singled out drivers of expensive cars as an "evil" of China's rich-poor divide.
"They've become a symbolic target of public resentment," is how sociologist Zhao Weihua at Beijing University of Technology puts it.
However, 32-year-old pawnbroker Zhang warned that the ongoing vilification of supercar drivers is fueling the "victimization" of innocent enthusiasts nationwide. As the founder of the Beijing Supercar Club (SCC), he aims to change that.
Zhang Kuan has been infatuated with fast cars since he was a teenager but only realized his dream of owning one three years ago when he bought a Ferrari.
Driving the car out from the showroom "was like driving for the first time", he said. "The combination of freedom and control was like nothing else."
He remembers being the center of attention that day, with everyone in the street "throwing me a second glance". Many people still stare today, some in fascination, some in disgust.
"When people see a supercar now, instantly their first reaction is, 'Look at that rich kid and his mad driving'," said Lu Yi, 30, an SCC member and manager of a Beijing car dealership. "There's a definite prejudice against us, which the media is helping stir up."
Road rage
In fairness, wealthy young people in sports cars have handed journalists a fair amount of ammunition to attack them with in recent years.
In October this year, 22-year-old Li Yifan knocked down and killed a female student while drunk on Hebei University's campus. After attempting to speed away, he allegedly told onlookers in his way: "Sue me if you dare. My father is Li Gang (a deputy district police chief)."
The incidents came shortly after a "connected" college student in Xi'an, capital of Shaanxi province, stabbed to death a young mother he injured with his car as he feared this "peasant woman would be hard to deal with".
Hu Bin was also sentenced to three years in jail in July 2009 for killing a pedestrian while drag racing his high-powered Mitsubishi on the streets of Hangzhou, capital of Zhejiang province. Pictures of Hu laughing with friends shortly after the accident were published on the Internet.
Following the negative publicity, SCC members from across China said their vehicles have been repeatedly scratched when parked on the street, causing thousands of yuan in damage.
People have every right to be angry with supercar owners, argues Tang Jun, secretary-general of the Chinese Academy of Social Sciences' social policy research center, who said he has seen many of them speeding on city roads.
"When (these drivers) don't obey traffic rules, they are a threat to public safety," he added.
However, Zhang complained that the negative image is largely fueled by the media's portrayal of wealthy car owners.
"When there is a traffic accident involving a rich driver, the media is all over it. They give the story repeated coverage," he said. "When we do charity work, they don't bother to report it at all."
To boost the reputation of his club, which was set up last year, Zhang has organized several charitable projects, including visiting orphanages and elderly care centers to help out and donate money.
In November, several members drove to an animal welfare center on the outskirts of Beijing. They donated food and money, as well as blogged about the day to raise awareness to the problem of stray cats and dogs.
"I thought all rich kids do is waste money and show off," reads a comment left by an anonymous netizen on the SCC's site, hosted by sina.com. "I'm touched by your social responsibility and hope your actions can inspire others."
Sociologist Zhao said she believes it will take a lot more to solve the "deeper conflict" behind the hatred towards luxurious or fast cars.
"In a society with a serious imbalance in the distribution of wealth, the general public tends to generalize and label the rich as bad" following high-profile examples, she explained. "Wealth forces on them higher moral requirements and they need to be extra behaved to maintain a good public image."
Zhang agrees and said the SCC has strict rules against street racing and drunken driving. Making sure everyone sticks to them is easier said than done, however.
After a photo shoot at Beijing's 798 Art Zone last weekend, a Porsche and a Ferrari driven by two SCC members could clearly be seen racing on the airport expressway.