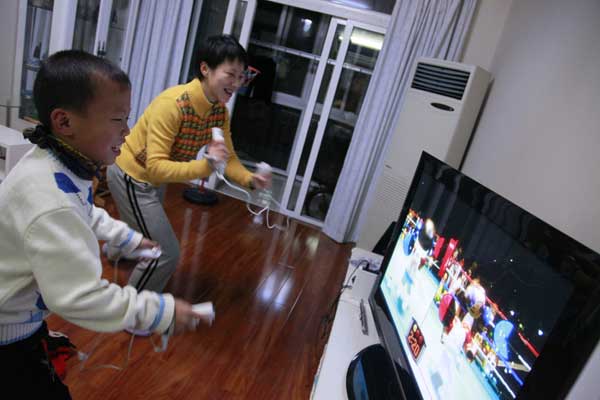 Xu Ming plays video games with her son Dai Chenming at home in Shanghai in this photo taken in early December. He Jiaying / for China Daily
SHANGHAI - Ordinary office worker and mom Xu Ming wants to make sure her son is one happy tomato.
The blogger, widely known as "Tomato Mom" among young parents, has been writing hilarious stories on raising children ever since she became pregnant.
One of the most hotly debated issues on Xu's micro blog is her advocacy of a "happy education".
Related readings:


 Blogger highlights best of 'Made in China'


 Power to the blogging people


 China's most famous blogger launches mag


 Designers embrace power of fashion's blogging crowd
For instance, she did not have her 8-year-old son, Dai Chenming, attend any private early education.
Nor did she try to squeeze him into the most competitive primary schools, despite the current craze among parents to select the very best.
Third-grader Dai attends an ordinary school that believes in a light homework load and a carefree childhood.
While other students are marooned in private extracurricular classes over the weekend, "Tomato", as his mom calls him, spends his time playing football and Wii games, and logging onto kaixin001.com, a China-based, Facebook-style social networking system.
"There is nothing unusual about my parenting philosophy," says Xu, 38, who has been nominated for the Shanghai Education Newsmakers 2009 honor - with her competitors being experienced teachers and educators.
"I just want my son to enjoy his childhood, rather than have a painful one in the name of future success."
Xu said she has only two standards in selecting a school for her son: the school should be close to her home and have little homework.
She even gave up having Tomato attend a renowned kindergarten because she heard "the children there felt tired".
"If my son has to be successful in the future at the cost of sacrificing his childhood, I would rather give him a happy childhood," the mother said.
Xu doesn't worry about her son's studies, as she believes extracurricular study is not a must for a child to achieve a good academic performance.
"On the contrary, if a child accepts too much additional knowledge, he might not be able to focus on the basic knowledge," she said.
She has been right. Her son has been performing fairly well at school - top five in his class - even though he doesn't work as hard as many of his classmates.
Xu believes childhood is crucial in one's life because it's the very period when a person's personality and behavior are shaped.
"It doesn't matter how many ancient poems he can recite or how many mathematic problems he can solve," Xu said. "I only want my son to be ordinary, easygoing and healthy."
The mother said she is glad that her son has grown into an outgoing boy, popular among his peers.
"What's more, the parents of his classmates are willing to have their children play with my son," Xu said.
Despite her busy work in a securities company, Xu keeps writing diaries several times a week after her son goes to bed.
She also shares the stories on her blog with her son. "Every time he reads them, he laughs happily," Xu said.
She also writes fairy tales. "When Tomato was younger, I told him the story of Snow White. It surprised me when he said the greedy princess was not a good girl and she deserved to suffer," she recalled.
"I started to realize maybe the classic fairy tales are too remote from children's real lives so they can't understand the meaning of the stories," she said.
Xu decided to write her own stories based on her son's daily life and made her son and his best friend the leading characters. "I hope to teach him through the fairy tales about how to communicate with other children and make him kind and optimistic," she added.
The diaries, Happy Tomato, have been recently published, and her second book, a collection of fairy tales, will be published later this month.
Xu is a little unprepared for the public's attention after she and her advocacy for "happy education" were reported by local media.
"I'm really grateful for the coverage. Without that I would never have been able to publish my first book, which gives me a great sense of achievement," she said.
But she also has concerns.
"One day Tomato was looking for a copy of a newspaper that covered us and said he would show it to his teacher, who, according to him, is a fan of mine," she wrote in her blog. "I could see he was so excited that his face turned red.
"I felt worried and told him being reported on newspapers or TV is not a glory and our lives shouldn't change."
Xu said she was not sure whether he had understood what she said, but she was glad to see her son didn't give the newspaper to his teacher, because 'It's no big deal.'"
"I don't want him to be affected by the coverage," Xu said. "After all, we are just ordinary people."