Christmas shoppers in desperate search for a deal on wheels. Cui Jia in Beijing reports.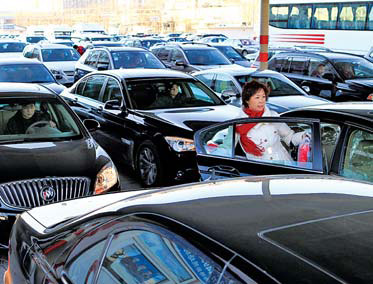 Drivers wait at Beiyuan Vehicle Inspection Center in Beijing's Chaoyang district on Tuesday to get their license plates registered. [Feng Yongbin / China Daily]
Take a sneak peek at a Christmas list drawn up by any Beijinger and chances are it includes a new car - or, to be precise, a new license plate.
People have been desperate to get their hands on this year's festive "must-have" since the announcement of plans to restrict vehicle purchase and registration in the capital from Jan 1.
The move, which has essentially already won the backing of the State Council, is aimed at solving the crippling traffic congestion that blights Beijing. If successful, the model could be copied in other Chinese cities.
Exactly how the government will curb car sales is unclear, although many potential buyers are unwilling to take a chance by waiting to find out.
"I heard the authorities might restrict people without the Beijing hukou (permanent residency), like me, from buying cars," said Li Sisi, 26, who moved to the capital from Xi'an, Shaanxi province. "That's why I need to buy one now."
Other potential buyers said they fear the current tax rebates and trade-in subsidies will be canceled when the new regulations come into force.
Car showrooms are playing it cool this winter, with many scaling back on their usual seasonal promotions. Yet, the buyers keep coming.
Li Sisi, who runs an online store, was among thousands who flocked to Yayuncun Car Market, Beijing's biggest dealership, last weekend to seal a deal.
"Originally, I really wanted a red Volkswagen Polo but now I don't have any color preference and I'm willing to pay more than other people to get a car," she said.
Like many others, she discovered that buying a car these days is by no means easy, with popular makes and models largely sold out citywide.
In contrast to previous months, when showrooms have relied on discounts and promotions to lure in customers, salesmen and women at Yayuncun said demand surged in the first half of December, with sales of some models even doubling.
More than 20,000 vehicles were sold in the first week of December alone, more than twice the number during the same period last year.
Beijing buyers snapped up roughly 96,000 cars throughout November, a year-on-year rise of 33 percent. That figure is expected to hit 100,000 this month as residents rush to take advantage of the tax incentives before they are scrapped.
"Forget discounts; people will have to pay more money if they want to drive their cars away from the showroom before Jan 1," said Lu Qiming, a Volkswagen salesman at the mega-market. "I wish I had more cars to sell."
The draft of Beijing's traffic management plan, which was released on Monday, also states government agencies will be barred from buying more vehicles during the 12th Five-Year Plan (2011-2015).
Municipal authorities own about 700,000 vehicles, almost 15 percent of all those registered in the capital, show officials statistics.