Chinese farmers share experience of new methods at Harvard
XI'AN - Surrounded by agricultural experts chomping down on his jujubes, fruit farmer Hui Guohai had to swallow his fear, open his mouth and speak to more than 100 people at a lecture hall at Harvard University.
For the 58-year-old from Gaoliushu village in Northwest China's Shaanxi province, it was the first time he had addressed that many people at once - people who also just happened to be experts from around the world gathered in one of the top universities on the opposite side of the globe.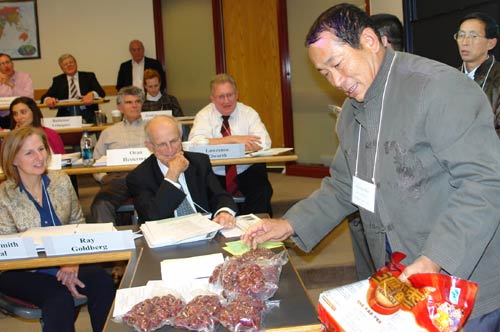 Hui Guohai hands out his dried dates to delegates attending the agriculture and food forum at Harvard University on Nov 22, 2010. [Provided to China Daily]
"I brought some vacuum-packed dried dates with me to the forum," said Hui. "Many experts opened the packages and ate the dates as I told my story of getting rich by technology."
And that was the story they had come to hear at the forum of agriculture and food, held by John F. Kennedy School of Government on Nov 22.
Hui, who grows 3.3 hectares of Chinese dates, along with 47-year-old Cao Xiehu, who has a 0.4-hectare apple orchard in his home village in eastern Shaanxi, were selected to participate at the forum as "they were beneficiaries of agricultural technology and did a very good job in their production", according to Sun Wuxue, president of Northwest Agriculture and Forest University in Yangling, Shaanxi province.
It was the first time Chinese farmers had been at the annual agricultural symposium, which addresses how to bring science and technology to ordinary farmers.
"The first one or two minutes were difficult," said Hui. "But since the speech was mainly about what I do in my farming, I felt at ease after a little while."
Though his hometown has a 3,000-year history of planting Chinese dates, Hui failed to make a decent profit out of his garden until 2000, when he received training in new planting technology.
"This year I've made 500,000 yuan ($75,000) from jujube production," Hui told the forum.
Hui and Cao also exchanged ideas with farmers from the United States, Spain and India, which both admitted was "an eye-opening experience".
"Farmers in the United States enjoy a high degree of mechanization and many employees have a higher education, some even with a PhD. It was very interesting to learn how they worked," Hui said.
Cao, the apple grower, also gave a 10-minute speech with slides showing his orchard fed with organic fertilizer and equipped with insect-trapping bags, pest-killing lights and sticky boards to catch insects.
"The title of my speech was 'The production of non-polluted apples' and I asked my son to help me prepare a multimedia presentation," Cao said.
Cao lives in a mountainous village and used to make an annual income of 1,000 to 2,000 yuan as the farmland on the Loess Plateau is not suitable for growing grains.
He started to plant apple trees in 1995, but after eight years, apple production was only 7,500 kg, from which he earned less than 20,000 yuan annually.
Then, in 2006, agricultural experts from Northwest Agriculture and Forest University came to his help.
The audience laughed when Cao recalled how the experts told him he would be able to grow better apples - and more apples - if he cut down half of his trees.
"I only agreed to cut down some trees in a corner of my orchard," Cao told the forum. "Then incredibly next year the trees in the corner did produce apples with better quality and quantity.
"I felt so glad. Then I learned more know-how, especially tricks to produce non-polluted fruits.
His apple production almost tripled, and his net annual income rose to nearly 100,000 yuan in 2010, almost five times that of 2006.
Both speeches were well received, but Cao admitted that he and Hui's strong accent did give the translator, an overseas Chinese student, some difficulties in the beginning.
"I never dreamed that I could make a speech in a lecture hall at Harvard University in the United States, and I felt happy to let the foreign experts know how science and technology help us in agricultural production," Cao said.
The deepest impression they got at the forum was the great attention the foreign experts paid to food safety, Hui said.
"Some of them didn't eat my Chinese dates, obviously for fear of pesticide residues," Hui said. "I don't blame them. I have told many of my fellow villagers that it's up to us to convince them with hard facts that our products are of high quality and without any pesticide residues."