SIXIAN, Anhui - For most drivers, potholes are a pain in the axle. For Ma Yuhuai, repairing them is a way of life.
The 68-year-old man in Xinliu village of Sixian, Anhui province, has been volunteering his time for the last 30 years making sure roads in the village stay in good shape.
In his village of 4,000 people, there are dozens of kilometers of roads that are churned into a mess after each rain.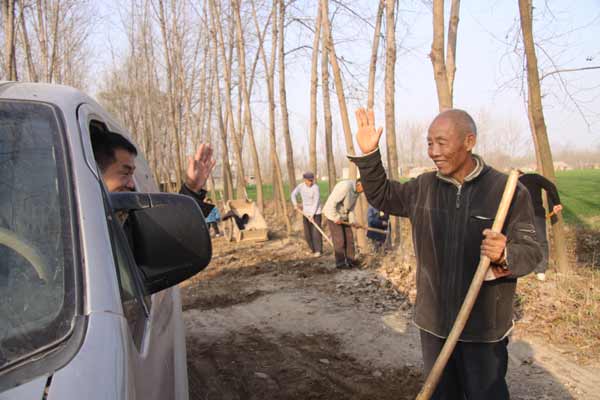 Ma Yuhuai, a 68-year-old volunteer who maintains roads in Sixian county, Anhui province, says hello to a driver passing by during a break in this file photo taken on Nov 25. [Mu Songliang / for China Daily]
"Almost everyone in the surrounding villages knows him because he works on maintaining roads almost every day," said 41-year-old Li Hongying as Ma was smoothing over a bumpy road with mud in front of her house on a chilly November afternoon.
"We sincerely respect him because he has been devoting himself to this for almost half of his life."
Before 1980, Ma worked as a line maintainer in the village's broadcasting station. When the station stopped operating, Ma was not sad about losing his job, which in the eyes of many villagers, was a "good and stable one".
On the contrary, he was excited because he would have time to tackle a problem that had been lingering in his mind.
"The tough road conditions in the village had bothered me for a long time," Ma said. "But it wasn't until I was dismissed from a normal job that I really had time to tackle the problem."
Related readings:


 Volunteer Expo raises hopes and fears


 Chengdu panda research base picks six 'pambassadors'


 Student volunteers help cancer patients


 Dreams of giving something back
Ma's road maintenance started with a bit of shyness and hesitation.
"I was afraid that people would laugh at me like an idiot," Ma said. "No one had ever done this before. Some of the roads needing repair were even in neighboring villages. People might say I was putting my fingers into other people's pies."
Because of this, Ma tried to do his work in the evening when there were very few people outside and they would not notice his work.
But eventually his eyesight worsened in the dark and he began to work during the day.
"When I explained to people who were passing by, they were very surprised and thanked me," Ma said. "This encouraged me and I felt elated after a day's work."
Ma's day starts at 6:30 am, even in the cold of winter. He rides his bicycle around the village inspecting roads, deciding on what repairs are a priority for the afternoon, or more likely, the following several days.
"For me, digging mud from the drainage ditch and pouring it into the bumpy road is the best exercise to help me stay warm (in the cold season like now), or even make me break into a sweat," Ma said while tying a shovel to his bicycle.
Villagers are deeply touched by Ma's devotion, yet find it hard to think of a way to thank him because Ma seldom accepts gifts, except for a vacuum cup offered by a grateful official who commutes every day between the village and the downtown area of Sixian county.
Ma loves the gift.
"I found it really useful and now carry it every day," Ma said. "It helped me do my work better, something much better than money."
Not everyone is so happy about Ma's long-time devotion, however. His wife, Jiang Rongfang, 64, said she feels unhappy when people talk about their family earnings.
"Men like Ma are usually the bread earners of the family," Jiang said. "They can earn 50 yuan ($7.50) a day as construction workers. But whenever people offer him a job, he always refuses because there are still many roads in need of repair. Now we earn less than 10,000 yuan a year."
But she smiles when remembering how Ma has been trying to cheer her up.
"He knows I'm not happy about this," Jiang said. "He'll make my favorite noodles for me if he refuses a chance to earn money."
On the front door of Ma's house is a pair of spring festival couplets: "Enjoy a poor but happy life, rather than a rich but immoral one."
Ma said he is satisfied with his life. His only son and daughter-in-law, who have been working in Beijing for more than 10 years, earn a decent income. They helped their parents build a new house in 2001, drawing admiration from neighbors.
Ma's devotion has also inspired six other villagers - the oldest is 84 - to volunteer with Ma.
As he was about to end his workday at 5 pm, an 11-year-old boy riding a bicycle passed a hole Ma had just filled with mud.
"This is a happy moment for me," Ma said. "I've been asked many times why I keep doing this. For me, filling the holes is like filling my heart with joy."
But he said his happiest moment is yet to come - the moment when all the roads in the village are covered with cement, which the local government said will come in a few months.