China's wealthy are trying to dodge strict aviation regulations. Wang Ying reports from Shanghai.
It was a hot July night and the usually busy runway at Hangzhou's Xiaoshan International Airport had been silent for almost an hour. Inside, curious travelers peered out of the windows as rumors quickly spread that their flights were grounded because of a UFO.
Unfortunately for those expecting little green men, the explanation from authorities several days later was far from mysterious: It was a private jet taking a "black flight".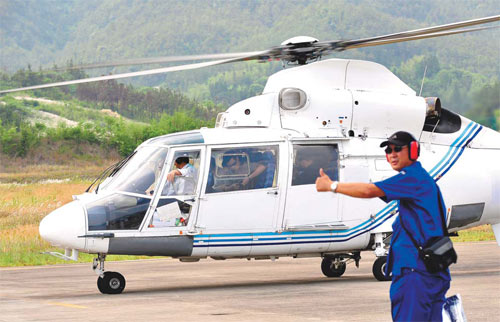 People board a helicopter to enjoy the first flight of the Friends of Wind Club on May 16, 2009, when the group was established in Hangzhou, Zhejiang province. [LI ZHONG / FOR CHINA DAILY]
China's strict airspace policy bans all pilots from taking to the skies without prior clearance from aviation officials. Yet, many private aircraft owners - largely parvenus who have benefited from three decades of soaring economic growth - are cutting through the red tape.
"You know, most UFO sightings over the Chinese mainland are actually (unapproved) black flights being made by private owners," said an industry insider who did not want to be identified.
Although there are plans to ease flight restrictions, experts warn that black flights promise not only chaos for airports, but also disaster.
Sightings of at least nine UFOs have been reported across China since June this year, including in Hunan, Yunnan, Sichuan, Shanxi and Shandong provinces and the Xinjiang Uygur autonomous region.
More than 20 scheduled flights were delayed in Hangzhou, capital of Zhejiang province, in July, with more grounded in a similar high-profile incident at Baotou Airport in the Inner Mongolia autonomous region on Sept 11.
Breaking the limit
Rule-breaking pilots face fines of up to 100,000 yuan ($15,000) from the Civil Aviation Administration of China (CAAC) if caught, although the penalty has so far not proved much of a deterrent to the swelling ranks of China's nouveau riche.
Xu Weijie has been flying since signing up with a Shanghai pilot school in 2004. A native of Wenzhou, a wealthy industrial city in Zhejiang, he admitted he flies an average of 200 hours every year but rarely logs a flight plan with authorities.
"What makes matters worse is that the aircraft I use are (mostly) light-sport planes which are barred from Chinese airspace under the regulations," said the 32-year-old, who owns 10 planes and a Hummingbird 260L helicopter.
"It means I can only take off and land in remote areas, far out of sight of the general public and officials," added the businessman, who sells self-build aircraft kits.
Others, however, argue that flouting the rules is part of a crusade to raise awareness.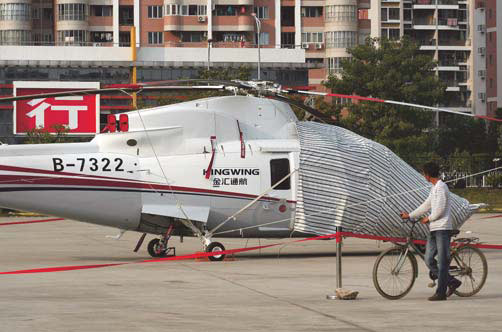 A cyclist looks at a S-76 helicopter in downtown Fuzhou, capital of Fujian province, on Feb 11 this year. It is owned by Shanghai-based entrepreneur Zou Jianming. [WU CHANGQING / FOR CHINA DAILY]
Guan Hongsheng, 44, who runs a successful company in Wenzhou that exports clothes, hats, shoes and construction materials, said black flights are his way of standing up against an "outdated regulation".
To be cleared to fly, aircrafts must be registered with local CAAC offices, which check that the model is approved for Chinese airspace. Pilots also have to submit flight plans for every proposed journey, including times and the route to be taken.
Guan, who owns five planes - three in China and two in the United States - and is deputy director of the Wenzhou Lucheng Hailukong Club, complained that the application process is too complicated and too time-consuming.
Flight permits depend on the route and how many local CAAC departments need to be involved. If it is just one, the application can be processed in a day; otherwise pilots can be made to wait up to a week for clearance.
The price of permits, which can cover up to seven days, is also variable. For example, to fly between Xi'an in Shaanxi and Shanghai costs about 1,000 yuan a time.

"In March, our club flew two Rotorway Exec 162F helicopters for 20 minutes without official approval and were later fined 20,000 yuan by the Zhejiang CAAC," said Guan, whose club has more than 100 members, including 80 percent from the so-called "rich second generation".
"There always needs to be one person challenging an outdated regulation. I'm not scared to take the initiative," said the entrepreneur.
Yi Hong, marketing director for Xi'an Zhongfei Aviation Club, however, feels the harsh restrictions are necessary to prevent potential disasters. "If a UFO is spotted near an airport, (air traffic controllers) have no option but to delay or suspend (the departure and arrival of) passenger aircraft so as to avoid a mid-air collision," she said.