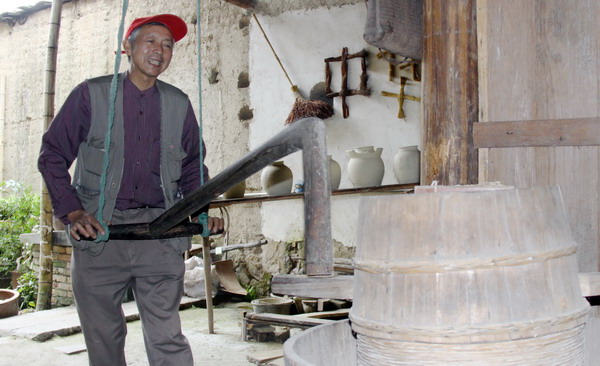 Zhang Shuyan, a 62-year-old former peasant who founded a farming museum, shows how to grind grain with a traditional piece of equipment in his museum at Jitou village, Pingnan county of Fujian province on Nov 14. [Photo/China Daily]
XIAMEN, Fujian - For the last 30 years, Zhang Shuyan has been collecting ancient farming tools.
The kinds of tools he collects, including a stone mill and stone mortar, are disappearing due to increasingly mechanized farming and the progress of urbanization, according to Zhang, a 62-year-old former peasant in East China's Fujian province.
"People are giving up farm work and swarming into cities. The tools you could once find in every house are disappearing. Maybe some day the village will cease to exist," said Zhang, who lives in a village named Jitou in Fujian.
Zhang opened his collection to the public in March and named the free exhibition of more than 3,000 pieces "Museum of Rural Farming".
He said it attracts more than 500 visitors a day - people from home and abroad - during peak season.
"At least I can find the tools a place in my museum," he said. "I hope people can remember the fading away of rural life and work."
Only 1,500 of more than 4,000 people in the village still farm for a living, mostly planting vegetables, according to Zhang.
He said villagers can earn about 7,000 yuan ($1,050) a year with farming compared with 12,000 yuan by being migrant workers.
With the decline of farming, many daily tools are becoming obsolete and strange to the young generations.
One of Zhang's collection looks like a wooden seesaw - people step on one side to lift a stone hammer on the other.
When you let your side go the hammer smashes down on the rice beneath it.
Zhang said most of the young visitors, even young people living in the village, don't recognize the tool.
"They are all familiar with McDonald's, but don't know how their fathers mill rice," said Zhang, whose family has been farming for generations. "The past generation must be disappointed."
He has also collected dozens of fishing tools, which consist of a variety of wicker baskets, chopstick containers made with bamboo sticks or earthen pots and different types of stone mortars.
One of his favorites is an oil grinder made with a piece of log. The log is hollowed out and a wedge is used to close the hole once it is stuffed with tea leaves.
The oil is squeezed out when people hit the wedge with a stone hammer.
Zhang hired 20 men to carry the 1.3-ton oil grinder into his museum, and invited every visitor to experience the ancient way of pressing oil.
The exhibition is housed in seven old wooden houses Zhang borrowed from local residents, covering 1,500 square meters in total. He doesn't need to pay the rent but has to repair the houses for the landlords.
With items messing up the dark, damp houses, many exhibits lay on the ground, some with handwritten instructions pasted beside them. Collections of pots crowded every bit of free space.
"Watch out!" Zhang warned a visitor from Hong Kong as they climb a narrow ladder. "You may break a rice bowl from the Qing Dynasty (1644-1911)."
In June he found a silk towel with strange characters in a peasant's house.
It turned out to be a royal decree by a Qing Dynasty emperor nearly 200 years ago praising the peasant's ancestor for his fealty.
He borrowed the decree for the exhibition. "I want to expand my collection as a museum of rural life, history and culture," he said.
Zhang said he has spent more than 100,000 yuan on his museum, and his brother supports him.
His wife, however, argued against it.
"My wife worries about my health. She said I work too hard on the museum, and of course, spending all the money we have," Zhang said. "But it's my spiritual sustenance. I am getting old but I'm doing something meaningful."
To fix the shortage of funds, Zhang has been selling tickets since October. "Three yuan each," he said. "You can travel back in time to see ancient farming."