HUAILAI, Hebei - A stomachache wasn't about to get in the way of Jiang Hangang's mission in Liberia.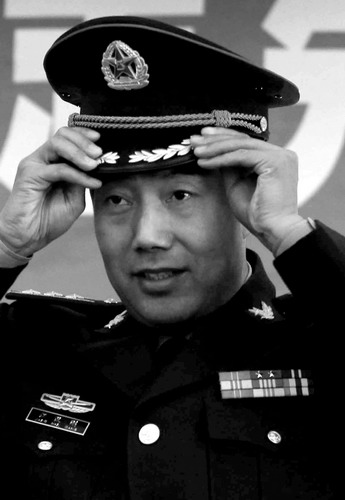 Jiang Hangang,42,repaired 560 km of roads in Liberia as a UN peacekeeper. [Photo/Chinadaily]
As regimental commander of 274 soldiers repairing 560 km of roads in the war-torn West African nation, Jiang simply found ways to endure the pain.
The 42-year-old took pills, pressed his fist into his stomach and tied a strip of cloth around his waist, trying to kill the pain.
"It's not that I didn't want to see a doctor," Jiang said. "If I did and it turned out that there were real problems, I'd have to return to China for treatment. How could I leave with such important tasks there?"
Jiang did not realize it was gastric cancer until the regiment returned to China in December 2008 after their eight-month peacekeeping mission.
"I don't believe cancer is that scary. You can use mine to decode its secrets," Jiang joked with his doctor.
Following four rounds of chemotherapy and an operation that removed 60 percent of his stomach, Jiang has recovered and returned to his position in the engineering corps of the Beijing Military Area Command.
"The hawk will strike the expansive sky. The leopard will race in the forest and you will create miracles," Jiang told his successors with the 11th batch of peacekeepers who are due to leave for Liberia this month.
Jiang and his men began their work in the African country in April 2008.
In the rainy season, heavy downpours continued to wash away their newly repaired roads. So Jiang came up with a method to remove the silt through drainage in the road, digging channels on both sides to let out the water and cutting down trees to let the sunshine keep the road dry.
It worked!
Jiang's method was later named after him and was widely adopted by peacekeepers from other countries working in Liberia.
It also allowed the Chinese peacekeeping corps to finish their assignments more than 20 days ahead of schedule.
However, the local government then asked Jiang's team to build a bridge, a job estimated to require at least a month to complete.
The UN mission in Liberia told Jiang they could choose not to accept the job, which could be delegated to other peacekeepers.
"But if we didn't accept the task, it would mean the Chinese engineers weren't able to do it. We won't ruin the reputation we created," he said.
Jiang's stomachache grew as the construction of the bridge progressed. By the time his team completed the construction of the 50-meter-long bridge within 15 days, he could only take soup.
Yet he still found time to build a 5-km road for a village and a football field for children, winning praise from UN officials and local residents.
As they carried out their mission, Jiang told soldiers to wear long-sleeve shirts and apply a medicinal oil on exposed skin at night to avoid the No 1 killer in Liberia - mosquito-borne malaria.
Food was another headache for them in a war-torn country where vegetables are hard to find.
Jiang allocated part of the land in camp to growing vegetables with seeds brought from China - the most successful ones included Malabar spinach and water spinach.
Not long before their return, Jiang and his soldiers planted another 2,000 seeds and bought five pigs to raise at the camp.
"We want the next batch of soldiers to feel at home when they arrive," he said.
Jiang also changed the commanders' dining room into a karaoke room to help soldiers feel better when they were homesick or upset.
His soldiers consider him to be a good singer and they feel encouraged to sing along with his favorite folk song, People Paddle a Big Ship.
Despite being viewed as an admirable elder brother and a capable commanding officer in the eyes of his soldiers and colleagues, Jiang's wife, Jin Mei, doesn't see him that way.
Jin said Jiang has not given much care to the family and she almost raised their 14-year-old son all by herself.
"If you see him only with your eyes, there is nothing good about him. But if you feel with your heart, he's actually a very good person," she said
Jiang laughed when he heard that.
"How I wish my wife was one of my soldiers that I've been devoted to," Jiang said.