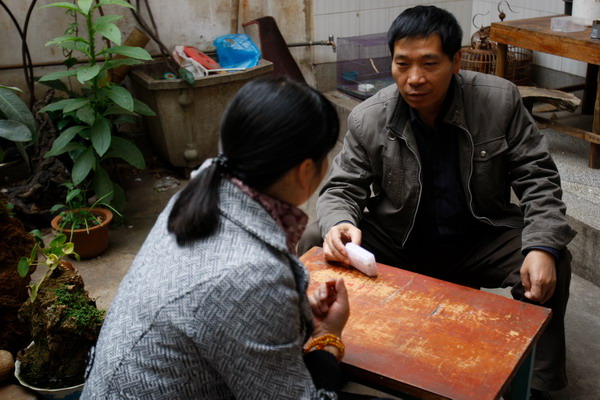 An employee with the local center for disease control tells an HIV-infected patient (left) how to take her medicine on Nov 25 in Yuxi's Hongta district, Yunnan province. Hongta's anti-AIDS workers have spent eight years trying to reach out to sex workers in an effort to educate them in the benefits of safe sex.[Photo/China Daily] 
Campaigners say it is increasingly difficult to trace fearful prostitutes driven underground. Duan Yan and Shan Juan in Yunnan report.
Xiao Xiao wiped tears from her reddened eyes. She starts crying whenever she thinks about her days as a prostitute in a nightclub.
Related readings:


HIV job discrimination highlighted in report 


Campaign to target HIV/AIDS risk groups 


China pledges more efforts to control HIV-AIDS 
Sitting in a quiet coffee shop in Yuxi, Yunnan province, the petite, pale-skinned 30-year-old had agreed to talk about her struggle with HIV but became upset when the subject turned to her "disappearance" in 2002.
That year, she said, all employees at the club were given blood tests.
"I didn't know it was a HIV test," she said, although not long after getting the results, she left her job.
For three years, officials with the city's center for disease control (CDC) were unable to trace Xiao (not her real name).
She reappeared when she was hospitalized with a life-threatening fever.
"We were trying to contact you (all that time) but we couldn't find you," Li Lianxue, a doctor with the Hongta district CDC, said to Xiao as they chatted about the past over a coffee last week.
"I had no idea", was her only reply.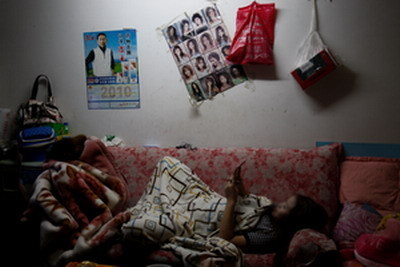 Two young women relax on a sofa as they wait for customers at a "massage parlor" in Yuxi on Nov 24.
[Photo/China Daily]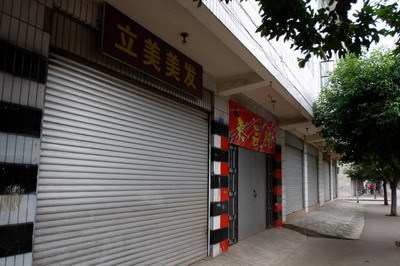 Many "hair salons" were shut down during the recent campaigns against the sex industry in Yuxi.
[Photo/China Daily]
As China marks World AIDS Day on Wednesday, anti-AIDS campaigners say keeping track of HIV-infected sex workers is one of their greatest challenges - not least because of police crackdowns.
"Crackdowns do little for disease control, they just drive prostitutes further underground, which undermines efforts to reach them and deliver intervention education," said Jing Jun, director of Tsinghua University's social policy institute.
Following the closure of an infamous nightclub in Beijing in June this year, authorities across China, including in Yuxi, launched fresh campaigns against the sex industry.
"We are determined to put an end to ... illegal activities in the entertainment places," said Qian Jin, deputy director of the security corps under Beijing's public security bureau.
However, health professionals in Hongta, who have spent eight years raising awareness of HIV and AIDS, fear plans to shut the 100 or so "entertainment venues" they regularly visit will mean losing all contact with the sex workers employed there, including those infected.

Of the 614 women given health exams in the district this year, only one tested positive for the virus. She has already disappeared from the CDC's radar, admitted Li Lianxue.
"This year, we've given out more than 100,000 condoms at these venues but it's far from enough," said Ma Yi, deputy director of Hongta CDC, who said that a prostitute at a "hair salon" can use up to eight condoms a day.
Flipping through the monthly free condom distribution records, Li Jinlin, the CDC doctor in charge of contacting venues, said more than 70 "hair salons" were closed by police last month, meaning they now only have records for sex workers at 21 nightclubs.
"Experience has shown that cracking down on sex work and driving it further underground is likely to make sex workers reluctant to accept services and make it difficult for health workers to gain access to them," said Mark Stirling, China coordinator for UNAIDS. "Interventions that respect the rights of sex workers can be highly effective."
As prostitution is illegal in China, there is no official number for how many people are involved in the business, although experts estimate the figure is roughly 3 million nationwide.
Police used to take possession of condoms as evidence to arrest a suspected sex worker or customer. However, that rule has been changed in Yuxi as part of a trial project to better coordinate the work of CDC officials and public security bureaus in AIDS prevention.
"Reaching out to (sex workers) with safe sex education and free condoms is important and benefits China's overall battle against HIV and AIDS," said Lu Lin, director of Yunnan's provincial CDC.
Official studies show the prevalence of HIV and AIDS among prostitutes is about 1 percent (compared to 0.05 percent for the general public). In Hongta, though, that percentage has fallen from 2 percent to 0.7 percent since the project started.
Lu said the model will gradually be expanded to surrounding counties.
Hao Yang, deputy director of the disease prevention and control bureau under the Ministry of Health, said it is unlikely the project will be rolled out nationwide in the short term, however. "Due to policy and legal restraints, it's hard to expand the model across the country," he said. "But that doesn't mean we should stop trying."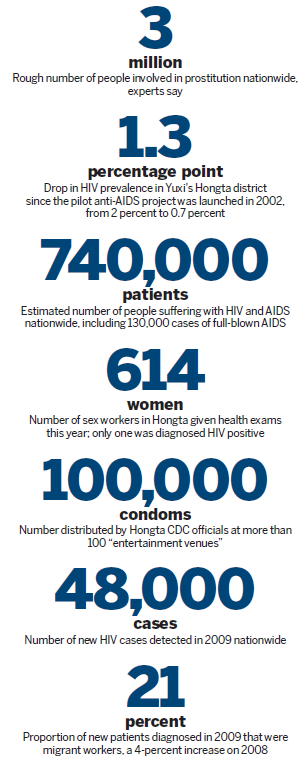 In the clubs
Nightclubs are hotspots for sex workers, although most refused to even admit they employed them when first approached by the CDC, said Li Jinlin.
Meidong works as a so-called "bar girl" at Yedu, a glitzy new club in Hongta where young women dressed in yellow miniskirts greet customers at the door. She is a key contact for the district CDC and helps to organize more than 60 women for awareness meetings and free health checks.
"We select those sex workers who are more eloquent and educated to help (us to reach) more women," explained Li Jinlin, who said several leading members of this grassroots group left the city during recent crackdowns.
At Yedu, Meidong introduced two of her colleagues to China Daily.
"I'm a freelancer," said Liu Ping, a 25-year-old college graduate from Yibin in Sichuan province. "I make 200 yuan ($30) for every client and give 20 yuan to the club. It's reasonable. Some nightclubs charge 50 yuan."
When she was asked if she would have sex with a client without a condom, she replied: "Of course not. That would be reckless."
Next to her, Zhang Lifang, 24, said she only offers to have a drink with her clients, not sex. The shy girl from the nearby city of Qujing added: "I know drinking alcohol from the same glass as a client is unsanitary but I won't get infected with HIV doing it."
Workers from the CDC have become familiar faces in clubs and "hair salons". The first step is speaking in a language sex workers are comfortable with. Simply put, "we can't be shy about it", said Hongta deputy director Ma Yi.
However, the recent crackdowns have made prostitutes and their pimps less willing to talk.
Compared with the stark setting of Yedu, "hair salons" are often more shabby in appearance and more secretive. CDC workers usually have to go undercover before they can talk to the women about safe sex and HIV prevention.
At a "massage parlor" China Daily reporters visited with Ma, a 19-year-old woman offered Ma the chance to "date" her for 100 yuan. He immediately told the storeowner, Li Aihong, that he was from the CDC.
"No wonder you look so familiar. I've seen you at the meetings," replied Li Aihong, lifting her head only briefly from her cross-stitching. "These two girls just came to work for me last week."
Although unwilling to give her name, the 19-year-old agreed to talk about HIV, explaining that all she knows "is that people can die from it".
When asked about how the virus is transmitted, she pointed at China Daily's male photographer as he was taking pictures and said: "I could get it from him." She then laughed and pulled a blanket over her head, too embarrassed to continue.
Ghost town
Hulu, a residential community bordering the city's urban and rural suburbs that has a reputation as a red light district, had more than 70 "hair salons" and "massage parlors" before the last crackdown.
Today, it is like a ghost town, with darkened shopping units and empty street-side food stalls. At 9 pm, usually the peak business hour for parlors and salons, most buildings were shuttered, with rental signs and phone numbers posted outside.
"I put the 'for rent' sign out two months ago but I've only had two people call to inquire," said landlord Chang Li, 34, as she played mahjong outside one block. "It used to be easy to rent out these apartments."
Chang said she did not rent to sex workers because the house is "near an elementary school", with the only exception being a young woman who "worked on the other side of the community" and had a child.
Most landlords in Hulu are farmers who bought the four-story buildings with the compensation they received for their land, which was swallowed up in the city expansion. Chang makes 14,000 yuan a year from her apartments.
As more than 300 sex workers rent homes here, both Hongta's CDC and Women's Federation have forged links with the landlords to help notify women of regular educational programs.
"We provide the platform, CDC provides the training," said He Liqiong, president of Hongta Women's Federation. "It used to be that prostitutes simply solicited on street corners in the city, but now they've moved into apartments and live together in this community."
He said helping sex workers with AIDS prevention is a way to protect women's rights.
"Experience has proven beyond a doubt that the most effective responses to HIV are those which protect the rights of those living with HIV and those who are most vulnerable to infection," Michael Kirby, a renowned AIDS activist and former Australian High Court Justice, said during an anti-discrimination event in Beijing in July.
"If we treat these individuals as criminals, we drive them underground, out of reach of prevention, treatment and care," he added.
Now that most "hair salons" have been closed down and sex workers have left the community, landlords complain their incomes have been severely affected.
He at the Women's Federation said the next plan is for the city government to transform Hulu into a commercial district.
In fact, work has already started. One former "hair salon" that employed more than 20 women is now a hotpot restaurant.
Guo Anfei in Kunming contributed to this story.
Names of the sex workers in this story have been changed.