A girl who filmed herself killing a rabbit for a video to be sold online has apologized for her actions, as it was revealed a secret group is behind the animal abuse videos, the Jinghua Times reported Tuesday.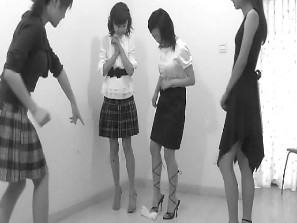 Huang stamps on a rabbit in a video posted online.[Photo/Jinghua Times]
In the widely seen recording, the girl is seen picking up the rabbit to stroke it before placing it under a piece of glass on a table. She then sits on a piece of thick glass on the top of the animal, crushing it to death.
The girl, alias Huang Xu, from Sichuan province, confessed to police that received 400 Yuan ($60) after making the video.
She told a reporter: "I got the job from a QQ group when I had posted my resume on the Internet and I didn't actually know what the company did when I got their call telling me I can get make decent money out of the job."
The sickening four minute video enraged netizens who started a"human flesh search" posting the girl's personal details online.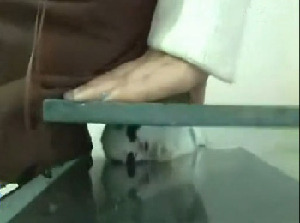 Huang crushes the rabbit under a piece of glass. [Photo/Jinghua Times]
An animal protectionist saw the video and started his own investigation into the group. Under the alias, crush fetish, he pretended to have an interest in animal abuse videos and through the online SNS community tracked down those responsible.
According to a police statement, the group makes maltreatment videos to sell to overseas online video companies. The company has allegedly made 279 animal abuse videos involving cats, rabbits, and fish. The subscription fees for such videos range from $3.70 to $9.00 each.
Chang Jiwen, a law expert, said: "In Europe and the US, there's a complete law system on animal protection, including strong punishment to animal abusers. Thus, maltreatment videos have the market overseas."
Online campaigners in China also called for a comprehensive law on animal protection saying it's a shame on the nation that these videos are sent overseas.