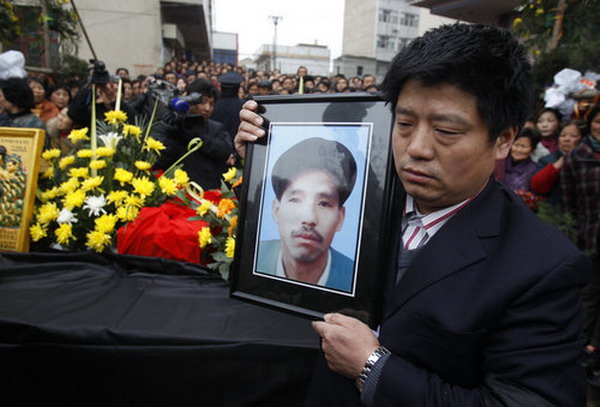 Sun Donglin holds a portrait of his brother Sun Shuilin at his funeral in Wuhan, capital of Hubei province, on March 2. His brother died in a traffic accident while rushing to pay wages to his workers. [Photo/Provided to China Daily]
Grieving man sets up China's first foundation for migrant laborers
WUHAN - When his brother died in a traffic accident, Sun Donglin realized there was one thing that had to be done right away.
Making sure his brother's workers got paid.
"It was impossible for my family to enjoy the Spring Festival, but we couldn't allow the same thing to happen to his workers," Sun Donglin recalled.
On Feb 10 this year, three days before the traditional Chinese New Year's Eve, Sun's brother, his brother's wife and their three children were killed in an accident while on their way from Beijing to their hometown in Hubei.
In the car was 260,000 yuan ($39,000) in cash that he was taking to pay his workers.
Before Sun had even arranged their funerals, he not only made sure the workers were paid, the ordinary Chinese farmer even took money from his own account to make up the shortfall in wages.
When the story hit the local media, Sun received calls from across China.
"The first donation I got was from a retired woman in Wuhan, about 4,000 yuan," Sun recalled.
He told China Daily that he received a total of 334,000 yuan in donations meant to help him through his difficult time.
"At first I planned to donate all the money to the education and health systems," he said, explaining that the two fields are very close to people's daily lives, especially the poor.
However, several people suggested he establish a foundation.
"It really started me thinking," said Sun, who was born into a poor family and through many years of hard struggle as a migrant worker was able to obtain a comparatively stable life.
"But there are still a lot of suffering migrant workers, and they are discriminated against by society and don't know how to protect their own rights."
On Nov 5, the Migrant Workers Aid Foundation, China's first foundation for migrant workers, was officially launched in Wuhan, capital of Hubei province.
The seven volunteer members of the council and two supervisors are elected every four years. Sun was elected chief.
"We have lawyers, officials and ordinary farmers in it to ensure the foundation is in good running order," Sun said.
It will focus on the livelihood of all Chinese migrant workers.
"It includes living, medical and educational assistance for them and support for related public service activities," he said.
In September he registered a company named Honored Brothers Construction Company and his ambition is to help more and more migrant workers through his company and the foundation.
Sun turned 40 years old this year, the age in China when a man is believed to find his direction in life.
"I found my dream now," Sun said.