Asiad's image ambassador sees his city as equal to Beijing, Shanghai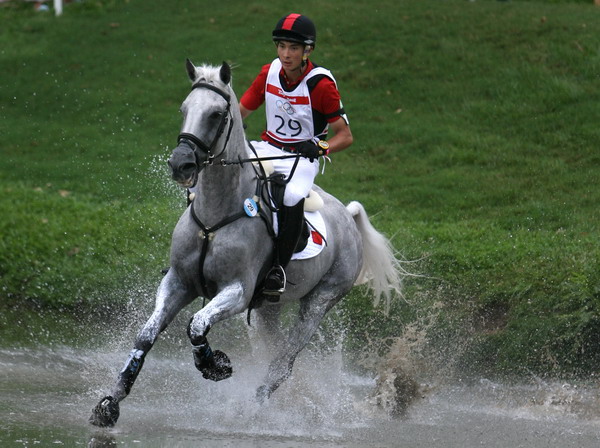 Alex Hua Tian rides a horse through a pool at the equestrian competition of the 2008 Beijing Olympics. [Photo/China Daily]
GUANGZHOU - It has been a long ride for Alex Hua Tian on the way to becoming the image ambassador for the Asian Games in his hometown.
Hua, the first Chinese to compete in Olympic equestrian events when they were held in 2008 in Hong Kong, has since saddled up to promote the host city of Guangzhou.
"People mostly see Beijing and Shanghai, but Guangzhou is just as significant," said the 21-year-old.
Born to a Chinese father and a British mother, Hua started riding at the age of four and became the first Chinese registered by the International Equestrian Federation at the age of 14.
Born in Beijing, he has also lived in Guangzhou, Hong Kong and London seeking the best for his horse-riding training.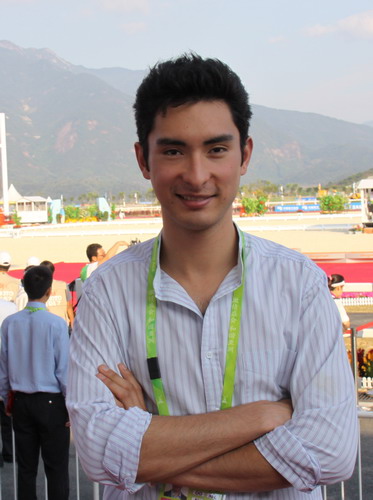 Hua Tian is the image ambassador of the Guangzhou Asian Games. [Photo/China Daily] 
Before he and his family moved to Hong Kong in 1994, Hua said he spent much of his time in Guangzhou, where his father and grandfather live.
"It was also in Guangzhou that my mom used to work and first met my father," recalled Hua, who always dresses in a tailor-made black suit at social functions.
By the time he became a Guangzhou citizen in 2008, he was ranked 21st in the equestrian world.
That excellence put him in the spotlight as the image ambassador for Guangzhou, which is vying for international attention equal to that of domestic counterparts Beijing and Shanghai.
Hua is not competing in the equestrian events at the Asian Games because his horses belong to a different category than those at the Asiad.
But Hua said he was glad to see Chinese riders win silver medals in the equestrian dressage team event, which is "more than a lot of people expected".
It is also just one example of the growing equestrian scene in China, he said.
"Horse riding has become fashionable across China since 2008," Hua said, mentioning the hundreds of amateur horse-riding clubs in China. "There is so much interest."
Hua was born into a family with a long tradition of horse riding. His mother Sara Noble, from a traditional British family, learned to ride when she was very young.
"From the time I was born, I was around horses, patting, feeding, even held on a horse's back," Hua told China Daily. "So as a 4-year-old, actually learning to ride was the next step in a natural progression.
"Horses were such a part of me I didn't really think twice about it."
Hua had only six months to prepare and to get the necessary sponsorship for the Beijing Olympic Games in 2008.
He fell during the cross-country competition and was disqualified during the Games, but being involved was so "intense" that it was a great learning experience for him.
Hua said he is looking forward to representing China again at the Olympic Games in London in 2012.
"The Beijing Olympics brought me back to my homeland, while the 2012 Olympics means competition in the hometown of equestrian riding," Hua said. "Both are important to me."
Tan Yingzi contributed to this story.