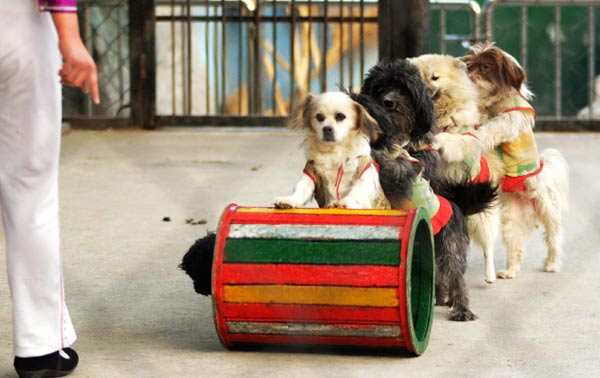 Dogs perform tricks at Zhengzhou Zoo in Henan province. Animal performances have for a long time been popular in Chinese zoos, which need good ticket sales to boost their revenues. PROVIDED TO CHINA DAILY
Zoos cagey as many will struggle to survive after January deadline. Hu Yongqi and Zhang Leilong in Zhengzhou, and Duan Yan in Beijing report.
As the black bears rode around the ring on bicycles, Xiang Xiaohui clapped her hands and screamed, her face a picture of excitement.
"It's amazing," said the thrilled 9-year-old, as she sat with 500 others watching the show at Zhengzhou Zoo, the largest in Henan province. "The lions also ride horses here instead of eating them, like it says they should do in my school textbooks."
For many youngsters like Xiang that afternoon, it was the first time they had seen such daring stunts. It is also likely to be the last.
As of January, all 250 or so public zoos and wildlife parks nationwide will be banned from staging live shows as part of fresh efforts by the central government to improve animal welfare.
The move strikes a blow for animal rights groups in their battle to improve the treatment of wildlife in China.
Yet, it will also have a serious economic and cultural impact.
Zoos will lose a lucrative revenue stream and animal trainers argue the blanket ban will take away their livelihoods.
Unlike in some countries where wildlife parks are heavily subsidized by the government, zoos in China rely on their incomes to cover daily running costs and are largely profit-driven businesses.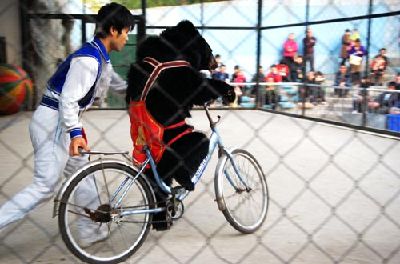 A black bear rides a bicycle as part of a show at Zhengzhou Zoo. The shows will be banned from January. XIANG MINGCHAO / CHINA DAILY
Zhengzhou Zoo, for example, only receives money from the municipal authorities for projects involving rare species or necessary repairs. Everything else is paid for with the revenue it makes on entrance fees.
Experts say the need to make a profit is largely to blame for the rampant exploitation of animals.
"Local governments are unwilling to give (the zoos) money, so instead they have become entertainment centers," said Liu Nonglin, program director of the Chinese Association of Zoological Gardens. He worked with officials from the Ministry of Housing and Urban-Rural Development to draft the new regulations.
"Zoo managers are now focused more on making money and less on taking good care of the animals," said Liu.
According to figures provided by its management office, Zhengzhou Zoo receives more than 1 million visitors a year and generates roughly 20 million yuan ($3 million). Almost half of that money, however, comes from ticket sales for its animal shows.
With the combined salaries of its 146 employees topping 3.6 million yuan, cutting the performances will leave a large hole in the budget.
Despite having an adverse effect on the income, Wang Jiantang, the zoo's Party chief, said the new rules will be "resolutely implement".
"After all, it's all for the good of the animals," he added.
End of training
After enjoying the bears' performance, Xiang Xiaohui and her parents were shocked when China Daily reporters told them about the forthcoming ban. They were not the only ones.