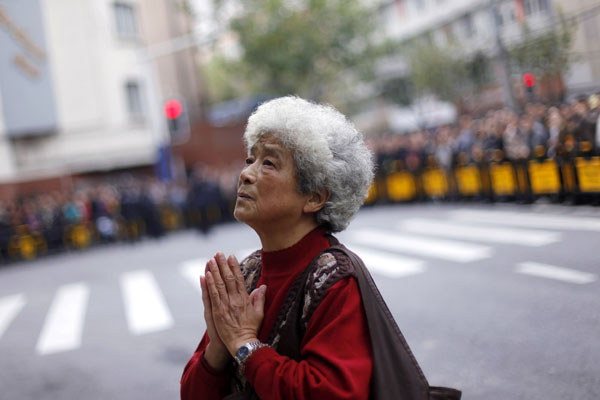 A mourner prays on Wednesday for victims of Monday's high-rise apartment block blaze in Shanghai, at the entrance of the fire-gutted building. Aly Song/Reuters
The flames may have been extinguished, but anger over the fatal blaze at a Shanghai high-rise is still raging in the hearts of the victims' families and friends.
Related readings:


 China orders fire-safety overhauls after Shanghai blaze


 Shanghai fire completely avoidable: official


 Illegal work practices behind Shanghai fire


 8 detained over massive high-rise fire
For a city renowned for its urban achievements, the question on the lips of horrified residents and those who escaped the burning 28-story tower is: "How could this happen?"
Police have already taken eight people into custody, including four unlicensed welders who were working on the building when the fire started.
The detentions came after experts on the investigation team sent by the State Council blamed the disaster on illegal practices, such as multi-layered subcontracting, and lax government supervision.
However, none of the statements so far released have dispelled suspicion among the public that corruption also played a significant part.
Monday's blaze in Jing'an district started during renovation work to improve the building's energy efficiency.
At least 53 people were killed, with another 36 people still missing.
Sixteen of the 71 people hospitalized are in critical condition.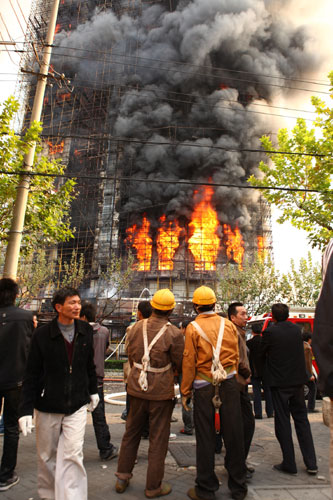 Onlookers watch as flaames engulf a residential block in downtown Shanghai, killing 53 people and injuring 71 others. The blaze raged for almost five hours on Monday before firefighters were able to bring it under control. Provided to China Daily
In charge of that renovation work was Jiayi Building Decoration Engineering, the company being targeted by much of the public outrage.
The firm took over the contract after its parent company, Jing'an Construction, successfully bid for the 30-million-yuan ($4.5 million) project.
According to the registered information, Jiayi is a State-owned company that was founded in June 1987 with an initial registered capital of 240,000 yuan. The address given for its headquarters is a three-story office block in a rundown area dominated by migrant workers that is slated for redevelopment.
With no company sign outside, it is not an easy place to find. Only a handful of employees were onsite on Thursday. All of them declined to answer any questions.
The management office, which is on the third floor, was completely empty. Judging by the silk banners and certificates issued by city authorities that hung on the walls, Jiayi was an award-winning unit in 1990s.
Everything else pinned to the walls of this sparse space was out of date, with some internal information not updated since 2001.
"(Jiayi) is getting ready to be relocated due to the area's redevelopment," said an employee of one of the small companies that share the office block.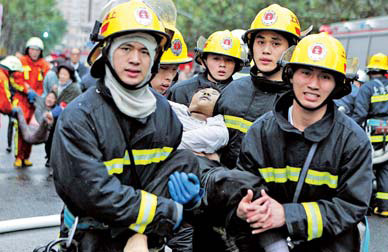 Fire rescue workers carry a survivor from the blaze in a residential tower block in Shanghai's Jing'an district. Yong Kai / for China Daily
Since police detained Huang Peixin, Jiayi's corporate representative, for questioning, all projects involving the firm have been suspended.
Questions remain over how Jiayi was initially selected for the district government-led energy efficiency improvement project, which included three buildings: the one that caught fire and two nearby residential towers.
Information available on the authority's website states Jiayi, which employs 50 people, won 36 renovation contracts in Jing'an between June 2007 and September this year. The total value was more than 28 million yuan.
These projects mainly involved schools and buildings used by government departments or State-owned enterprises.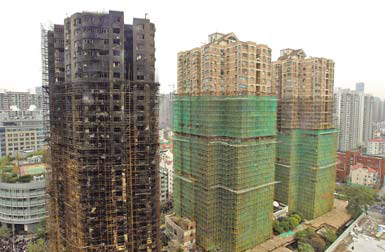 The charred remains of the 28-story residential building, left, which was undergoing work to make it more energy efficient. Yong Kai / for China Daily
However, fears over the company's qualifications were raised in 2006, when the Shanghai Urban Construction and Communication Commission reported that it "did not provide conditions for safe construction".
Jiayi also failed an annual safety quality test in 2008, according to information published on the commission's website.
Even last month, Shanghai Jing'an Construction Supervision, the firm hired to oversee the quality of the energy efficiency improvement project, said it was concerned about the standard of the work being carried out on the building that set alight on Monday.
"Workers sweating on the fire-stricken building were mainly from Henan province," an anonymous laborer who claimed to be a co-worker of the detained welders told the Economic Observer.
He said that, as Jiayi's staff could not carry out the construction, the company was forced to rely on migrant workers on short-term contracts.
The State Council's investigation team discovered after the blaze that work to erect the scaffolding, install the energy-saving insulation material and reinforce aluminum windows had all been subcontracted to several smaller firms, which is illegal.
"Lax management has led to construction by multiple companies and the employment of unlicensed welders," said Luo Lin, director of the State Administration of Work Safety, who led the investigation. "It was the illegal construction that caused this terrible accident, which should not have happened and could have been avoided."
Luo vowed those responsible will be prosecuted.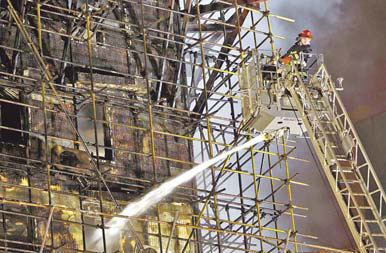 Firefighters use a tall ladder to douse the flames. The blaze was accidentally started on Monday afternoon. Pei Xin / Xinhua
Although authorities are required to select companies for projects worth more than 1 million yuan through a bidding process, there is no public record of Jiayi tendering for the recent work.
Jing'an district government is also yet to respond to claims in the media that Huang has close links with several local officials.
Foam dangerous?
Firefighters on the scene on Monday said the fire started when sparks from a welding torch ignited the bamboo scaffolding and nylon nets that surrounded the building.
However, residents have also blamed the energy-saving insulation material that was being installed.
A construction plan obtained by China Daily from Jiayi shows the company was using rigid polyurethane foam to improve the building's energy efficiency.
"Polyurethane foam plastic is inflammable. That is what turned the fire into a disaster," according to resident of a nearby building surnamed Bao told Xinhua News Agency.
In the same report, Xinhua detailed how Bao lit a piece of the yellow foam material with a lighter. It was entirely engulfed in flames within two seconds, producing thick, odorous smoke.
As insulation panels were also blamed for accelerating a blaze that gutted a building on the China Central Television complex in Beijing last year, there is now concern other buildings fitted with the material could also pose fire hazards.
Zhu Liping, a chief engineer with the Ministry of Public Security's fire department, explained that bamboo, nylon netting and polyurethane foam are all combustible and produce extremely harmful fumes.
He cited a 2008 nightclub fire in Shenzhen, Guangdong province, which killed 43 people and injured more than 80. It started when a stray firework ignited some polyurethane foam.
However, although inflammable, the foam can be modified to suit a variety of applications and to meet the national fire safety regulations. Rigid polyurethane foam is usually cut thinner than insulation materials, which means it would offer little fuel for a fire.
Tests on buildings containing rigid polyurethane foam insulation carried out in the United States and across Europe concluded that, if properly used, the material does not pose a serious hazard.
Building barriers
Experts in Hong Kong, meanwhile, pointed out the problem could have been more to do with the building's internal insulated structure.
"(The) material is not the key, it was the non-compatible structure between floors, which could prevent fire spreading internally, that mattered most," said Cheung K. P., an associate professor at the University of Hong Kong's department of architecture and an expert in the fire safety of tall buildings.
So far, much of the focus has been on the polyurethane, scaffolding and netting. However, Hong Kong experts have reservations.
"(Polyurethane foam) is also used in Hong Kong, although with lower frequency; bamboo scaffolding is also commonly used, however, not many fatal fires are reported here thanks to the thermal barrier placed on each floor," said Lim Wan-fung, a professor with the Chinese University of Hong Kong's school of architecture.
The thermal barrier is usually made up of insulating materials like steel sheets and can efficiently stop fires spreading to other floors, said Lim, who is also president of the Hong Kong Institute of Urban Design.
Thermal barriers are legally required on high-rise buildings in Hong Kong. A maxim 1-meter-thick inner layer of insulation material must be applied on the roof or between walls to isolate a potential fire, according to the website of the city's fire services department.
"If you take a look at the appearance of Hong Kong's residential buildings, you can't miss the concrete isolation between glass windows," said Cheung at the University of Hong Kong.
By looking at a picture of the Shanghai inferno, he said that the heavy smoke coming from the building's ground floor indicated lots of inflammable materials may have been placed in the lobby or around the building.
"This could fuel the fire by adding a 'barbecue effect'," added Cheung.
Michelle Fei in Hong Kong contributed to this story.