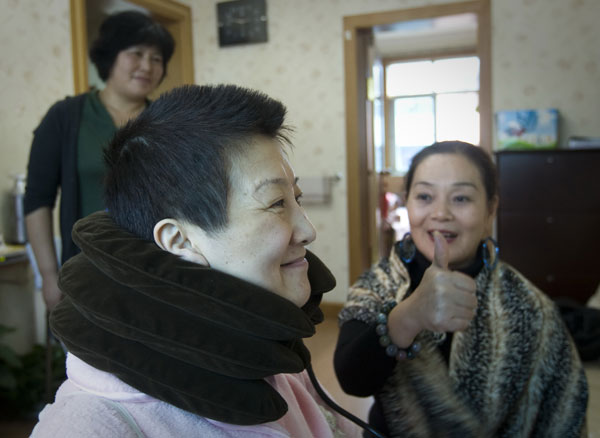 Zhang Hong (center), who suffers from ALS and describes her experiences in her blog, is visited at home in Xi'an, Shaanxi province, by a former classmate (left) and a friend on Oct 17. Provided to China Daily
XI'AN - Zhang Hong is gradually freezing to death.
And she's blogging about every agonizing detail.
Zhang, 47, once felt as strong as a rock - until she was diagnosed with ALS, a disease that slowly takes away a person's ability to walk, sit up, swallow food and eventually breathe.
Over the past five years, Zhang has written in her blog that she feels like "a pile of sand on the beach draining bit by bit with each sweeping wave".
Even to write that simple sentence she had to control a special device using only her feeble right index finger - the only finger with any movement left.
She has already lost the ability to talk, and can't even raise her arm.
ALS - amyotrophic lateral sclerosis - is also known in the West as Lou Gehrig's disease, named after the New York Yankees great who was one of the first diagnosed with the disease in the 1930s.
In China, ALS patients are also called "people who are gradually becoming frozen" because as the disease develops patients feel like their bodies are slowly freezing.
Zhang said she heard of the disease and its "beautiful" alias for the first time in late 2006 after nearly one year of searching for the reason why her right leg kept failing when she was walking up or down stairs.
"Finally I'm able to die with knowledge," Zhang wrote on her blog, which she has kept to record her personal struggle against the disease, one of the world's three major fatal diseases along with cancer and AIDS.
Capable and ambitious, Zhang was once a deputy director of a State-owned measurement institute in her hometown of Xi'an, capital of northwestern Shaanxi province, before she quit in 2002 to start a new career in Beijing.
By the time she was diagnosed with ALS, she had already climbed the career ladder to become chief financial officer in a company.
Zhang continued to work in the office despite the fact that an ALS patient usually survives an average of three years from the onset of symptoms.
"My parents and I had thought a miracle might occur," Zhang recalled on her blog.
They traveled across China looking for possible remedies. However, as the cause of ALS remains unknown, the disease is still incurable.
One day in early 2007, Zhang fell at her workplace and found it impossible to stand up again. She quit and moved back to Xi'an to stay with her parents, who are now in their 80s.
The cruelest part about ALS is that it doesn't affect one's thoughts or perceptions, which means Zhang knows exactly what is happening to her body and what fate awaits her.
Zhang is able to describe the situation calmly as "watching my beauty die quietly". But on her blog she also records her earlier struggle full of denial, anger, despair, reconciliation and eventually calmness.
She has managed to keep a daily update of 800 words while strength gradually failed her legs, wrists, arms and now even fingers.
"I've learned to accept the reality with the support of so many kind people," Zhang said, referring to the thousands of responses she has received online, which has helped her accept her situation.
"Then I started to think what I could do to help others."
China has an estimated 200,000 people with ALS.
"I am only one of the 200,000," Zhang wrote, referring to many others with similar suffering yet fewer financial resources or a less supportive family.
"ALS is a disease that not only causes great pain to the patients themselves, both physically and psychologically," Zhang wrote, recalling her early days of heart-breaking spasms. "It causes a great burden to their families in all aspects."
In her recent blog, Zhang recorded how her mother would spend hours preparing her lunch, as she was barely able to chew food any more.
Even though there is no cure for ALS, certain medications help patients survive longer - however, the medicine is expensive, nearly 5,000 yuan ($730) a month.
"Not everyone is able to afford that," Zhang wrote, calling for the government to include ALS medication in the country's medical insurance system.
To assist others, she helped launch a website dedicated to the home care of ALS patients and old people.
She even managed to write a book on home care for ALS patients in 2009 and printed 3,000 copies with help from her friends. She has given them free to other ALS patients across the country.
Sitting by the window as the early winter sunshine spilled into her room, Zhang described her plan for the following months.
"(Before I die) I hope to collect at least 20 respirators for other ALS patients who would otherwise die much earlier from difficulties in breathing."
Even though her typing speed has dropped to only five to six words a minute, Zhang insists on keeping her blog and online exchanges with others.
"If I can help others I will feel really happy," Zhang said.
China Daily
(China Daily 11/18/2010 page2)